Ford Model A sets new world record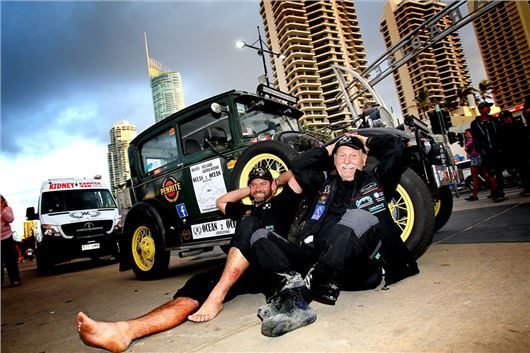 Published 10 June 2014
An Australian classic car owner has set a new world record for driving across Australia and back again in a pre-WWII car. Rod Wade, aged 71, and his team covered 5592 miles in a 1930 Ford Model A in a fundraising challenge for Kidney Health Australia.
The driving duo set off from Surfers Paradise on the Gold Coast on 3 June at 10am in a 1930 Ford Model A armed with a bottle of water from the South Pacific Ocean and a bucket of Gold Coast sand. They arrived at Bathers Beach, Fremantle, on 5 June and emptied the water into the Indian Ocean and tipped the bucket of sand onto the beach before refilling the vessels with the same from the Coral Coast.
They arrived back at Surfers Paradise on 7 June at around 4.20pm, making the total distance around 5592 miles. Covering the distance in a journey time of 101 hours, 52 minutes and 32 seconds, Rod Wade and his co-driver Austen Ritchie set a new world record for a vintage car in Australia. However, the pair had intended to complete the mammoth journey is under 100 hours, but two breakdowns prevented the pair from meeting their goal.
The inspiration behind the 'Ocean to Ocean Challenge Australia' was to raise money to create a fleet of 'Kidney Kampers' for Kidney Health Australia. The campervans are fitted with mobile dialysis machines and can provide a much needed boost for those suffering from kidney disease as it allows them to travel away from the hospital for weekends away and short holidays.
"The support out on the road from service station staff, border patrols, local police and motorists has been fantastic. It may be too early to say 'next time' but plans are already a foot," said Rod.
Vintage adventurer Rod Wade is no stranger to the world record books. Last December the Australian created a new world record for
driving a pre-WWII car across the USA
. The journey from New York to Los Angeles in 50 hours, 20 minutes and 6 seconds.
With kidney disease affecting Rod's wife and daughter, the Wade family has raised thousands for Kidney Health Australia, and funded the prototype 'Kidney Kamper' that made the crossing with the Model A.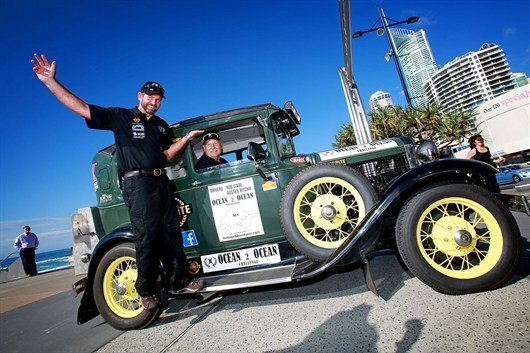 Comments
Author

Dan Powell
Latest