Jaguar to build six new E-type 'Lightweights'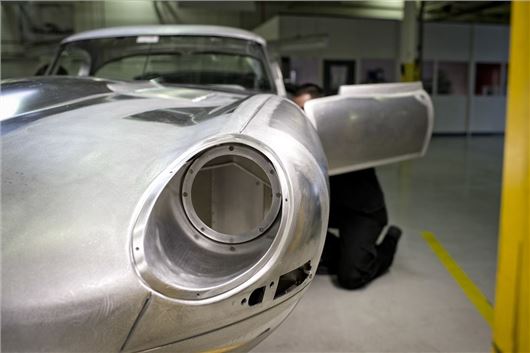 Published 14 May 2014
Six new Jaguar E-type Lightweights are to be built by the factory, completing the original 1963-'64 run of cars. The new cars aren't strictly replicas, but are reproductions of the original, race-bred Lightweight E-type, which are better described as Continuation cars.
The new cars are described by Jaguar as the missing six vehicles from the company's Lightweight E-type project, which originally started in February 1963 - with the objective of building 18 'Special GT E-type Cars'. In the end, only 12 of the aluminium bodied Lightweight E-types were built, the last in 1964. But the remaining six designated chassis numbers remained unused. Until now.
The new cars will be hand-built in-house, and each will be constructed to the exact specifications of their original 1960s forebears – including a 3.8-litre straight-six XK engine. The Lightweight weighed approximately 114kg less than the standard E-type, thanks to its all-aluminium body and engine block, a lack of interior trim and exterior chrome work. There were also many other weight-saving features including lightweight, hand-operated side windows.
Clearly, Jaguar anticipates a high demand for its continuation Lightweights, and is carefully selecting buyers. Established Jaguar collectors, especially those with historic race car interests, will be prioritised amongst those potential customers who express interest. There's no news on how much they will cost - but it's fair to say they will be less in price than one of the 12 original Lightweights.
Comments
Author

Keith Adams
Latest