Recovery work progresses following Corvette Museum sinkhole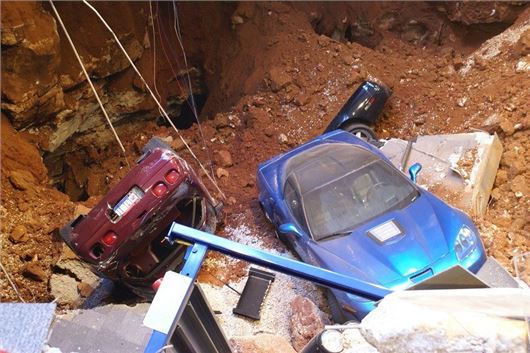 Published 06 March 2014
The National Corvette Museum in the United States hit headlines earlier in the year when a sinkhole opened and swallowed up eight of the exhibits. Now work is underway to recover the cars – three have been recovered so far but the plan is to pull out all eight, with the hope that all can be repaired.
The footage below shows the moment the 40ft sinkhole opened. The floor visibly drops as the ground beneath it falls away, before the weight of the cars causes the collapse. The hole later widened, swallowing more cars including some on loan from Corvette parent company General Motors. 
The blue ZR1 to the right of the shot was the first car to be recovered, and it was in such good condition that it could be started up and driven away for repair work to start. Other cars haven't fared quite so well, however – with some almost completely buried in rubble and soil.
The cars swallowed up were obviously all Corvettes, dating back as far as 1962. Among those buried and awaiting recovery are a 1991 ZR-1 Spyder, a 1993 40th anniversary edition model, the millionth Corvette ever built and the 1,500,000th ever built.
Removing the first three cars should be a relatively straightforward process, but recovering the remaining cars will prove trickier as they're quite deeply buried and could be seriously damaged, possibly beyond repair. The drone footage below shows just how large the sinkhole is. 
Comments
Author

John Slavin
Latest