Classic specialist apprenticeship scheme starts in September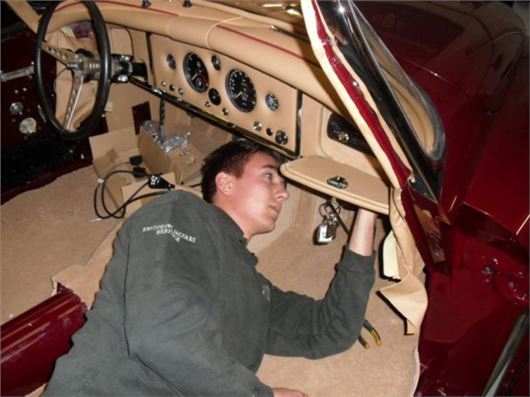 Published 26 March 2014
If you're young and looking for a way into the classic restoration and specialist industry, then a new Apprenticeship scheme, which kicks off in September, will be right up your street. The scheme, administered by The International Guild of Specialist Engineers (TIGOSE), and backed by the government, combines on the job training and college courses.
The recent government push backing apprenticeships in the motor industry has been extended into the classic field. In an acknowledgement that the classic car market is worth billions to the UK economy, but its skills base is ageing, the government is backing the efforts of TIGOSE in encouraging young talent into the business. 
Apprenticeships are designed to provide young people with a solid educational background, and The Guild's bespoke Apprenticeship Programme, is pioneering this in the classic car industry. The scheme is the first of its kind, and is being administered in partnership with global service provider company Babcock International Group, a FTSE100 company, which specialises in training programmes for companies such as BMW and Ferrari.
TIGOSE's new apprenticeship scheme is currently unique within the classic car industry because it guarantees 'employed' status from day one for students on the scheme. Apprentices on the scheme will be is productive from day one and work for 25% of their time in the first year, giving them full experience of working in a commercial environment, as well as gaining educationally backed qualfications in their field. The Programme includes vehicle maintenance, repair and restoration, and the learning takes place at Babcock's technical training Academy, near Nottingham. 
The on the job training is what separates TIGOSE's Apprenticeship scheme from other similar efforts, and backs the guild's assertion that it exists to represent and promote the interests of specialist engineers of classic cars. The first Apprenticeship Programme is now in place. The training provided includes BOTH structured learning AND practical skills applied to restoration and maintenance of classic and historic cars.
The programme is run by Roger Waters, who specialises in training programmes for companies such as BMW and Ferrari. It's backed by Babcock International Group, a FTSE100 company, which is the provider of the vocational training in the TIGOSE Apprenticeship Programme.
Once complete, Apprentices will be qualified to NVQ Level 2 or NVQ Level 3, with additional Functional Skills Certificate, IMI Technical Certificate, and an Apprenticeship/Advanced Apprenticeship Completion Certificate.
More at www.tigose.com
Comments
Author

Keith Adams
Latest