'Car SOS's Fuzz Townshend launches Classic Friendly garage scheme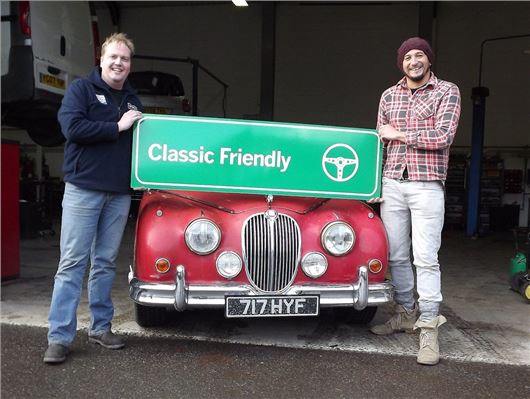 Published 10 January 2014
Fuzz Townshend, National Geographic Channel's Car SOS presenter, has launched a new specialist network garage scheme called Classic Friendly. It sets out to offer cherished car owners a national network of quality garage services specialising in the servicing of pre-1960 cars.
Fuzz (right), along with FBHVC-approved service facility owner, Lee Reynolds created Classic Friendly to ensure classic car owners can confidently choose their garage, no matter what part of country they're in by searching an online directory of businesses. They devised the vehicle inspections scheme with a view to assisting motorists to maintain their cars at an optimum service condition and thus comply with the law.
According to Fuzz, the prime reason for the creation of the 'Classic Friendly' garage scheme was because of the number of cars on the road, which no longer legally require an annoual MoT inspection. He said: 'There may be owners getting out their pre-1960 cars, or considering using them, without actually inspecting them thoroughly or having them checked out beforehand. Garages participating in the Classic Friendly scheme will be listed on the website, and be inspected by me to ensure consistently high standards'.
There are currently more than 200,000 pre-1960 cars and motorcycles in use on today's roads. All vehicles checked-out by a Classic Friendly garage will receive a uniquely numbered certificate, displaying the basic overall results of the inspection. Inspectors log the results, which will be available to the vehicle's owner, as well as anyone invited to view the data - most notably classic car insurers.
In addition to pre-1960 vehicle safety checks, Classic Friendly also offers buyer's and seller's inspections, which includes coolant and brake fluid testing, paint thickness and condition reports and inspection of upholstery, chrome and badging. Fuzz added: 'all garages will receive highly visible logo (above), which clearly shows that the garage is well-versed in old cars. And although the scheme is aimed at pre-1960 cars, those with younger classics will also be attracted to these garages, safe in the knowledge their classic will be in safe hands.'
Garages that are members of Classic Friendly will adhere to a Code of Practice, which states, 'Our aim is to provide a network of knowledgeable and experienced classic car-friendly garages,' and includes points such as, 'to be professional and carry out inspections to the best of your ability,' and 'to be honest and fair.'
Comments
Author

Keith Adams
Latest