Vintage Adventurer sets new trans-USA record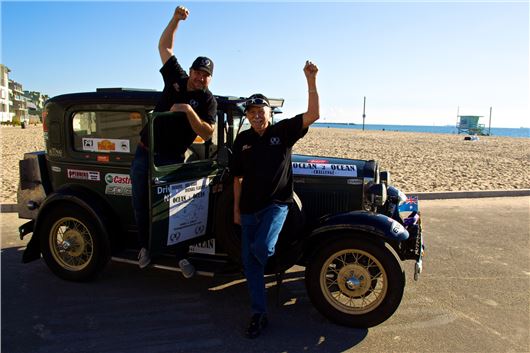 Published 09 December 2013
Vintage Adventurer Rod Wade and co-driver Michael Flanders have created a new World record for driving a pre-war car across the USA. The journey from New York to Los Angeles in 50 hours, 20 minutes and 6 seconds.
Australians Rod and Michael began the 3000 miles journey in their 1930 Ford Model A at Staten Island at 00.01 on 22 November with the aim of reaching Venice Fishing Pier in around 60 hours, giving an estimated arrival time the following Sunday morning. Despite horrendous weather conditions including rain storms, extreme winds and snow through New Mexico, the driving duo arrived much sooner than expected, reaching Venice Fishing Pier, Venice Beach, just after 11.15pm on Saturday evening.
The team experienced the worst of the turbulent weather in Amarillo, the place where the Model A suffered a broken crankshaft after 38 hours of driving in an earlier attempt in October of this year. The freezing rain, fog and snow forced Rod and Michael to stop every two miles to clear the windscreen of ice as there is no heated windscreen in the classic car.

On arriving at Venice Fishing Pier, Rod said: 'I can't believe we got here in such a good time. It got scary through Amarillo again but we battled on. If it wasn't for the weather conditions, we would have done it on 40'odd hours. Maybe next time!'
Rod added: 'The money we raise will allow us to outfit RVs and camper vans with dialysis machines so people requiring dialysis can have a little personal freedom to travel and enjoy life, instead of needing to be constantly within reach of a machine at their home, clinic, or hospital.'
With the US record under their belt, the Vintage Adventurers will be taking on the Ocean to Ocean Australia, driving from Queensland to Freemantle but also making the return journey. This is scheduled for June 2014.
Their World record was in aid of awareness of kidney disease. Rod's wife and daughter suffered from kidney disease, and to do something about it, he has raised thousands for related charities, and the Wade family has just commissioned the first 'Kidney Kamper' to get the ball rolling.
For more information, and the Vintage Adventurer and the latest updates, visit www.vintageadventurer.com.
Comments
Author

Keith Adams
Latest