Murray Walker honoured with lifetime achievement award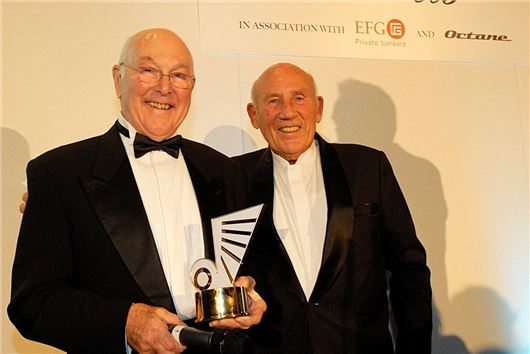 Published 18 November 2013
The International Historic Motoring Awards has paid homage to the career of Murray Walker by giving the veteran commentator a lifetime achievement award.
The motor racing broadcaster and journalist, who recently celebrated his 90th birthday, was presented the award by Sir Stirling Moss at London's St. Pancras Rennaissance hotel on 17 August.
Reminiscing about his decades within Formula One, Murray said: "I miss Formula One desperately. The camaraderie is like being in the Army, the Navy or the Air Force. I miss it so much."
Dubbed the 'voice of motorsport' by his fans, Murray Walker initially has no interest in motor racing and was more interested in bikes than cars. However, after World War II, he joined his father Graham in the commentary box in 1949 and after a spell of working as an advertising executive for Mars and Vauxhall, became a full-time F1 commentator for the BBC in 1978.
In the 1980s, Murray was joined in the commentator's box by 1976 F1 world Champion James Hunt and the two became good friends until James died of a sudden heart attack in 1993. Murray continued to be the voice of F1 in Britain until he retired in 2001 after the United States Grand Prix.
However, Murray continues to work part-time for the BBC and records regular videos for the Corporation's F1 website.
Comments
Author

Dan Powell
Latest