End of the road for Volkswagen's rear-engined Transporter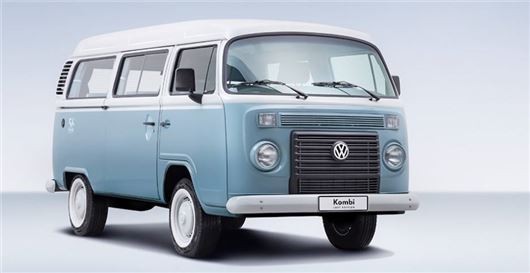 Published 25 September 2013
Time, it seems has caught up with the original Volkswagen Transporter Type 2. VW has announced that production of the Kombi is due to end in Brazil - bringing to an end 56 years of production, and also finally closing the book on its rear-engined heritage.
The reason for the end of production is legislation - from 1 January 2014, all new vehicles sold in Brazil need at least one airbag and ABS as standard - and the latter cannot be fitted to the Kombi without costly engineering changes. The current Kombi is imported into the UK and converted into camper specification by Danbury Motor Caravans, with a start price of £26,999.

Vokswagen Brazil is marking the end of the Kombi with a run-out model called the '56 Anos - Last Edition'. It's limited to the final 600 examples, and will be sold exclusively in Brazil. The run-out model, which we suspect will go down a storm, will be available in vintage blue and white, and the interior is decked out in a matching two-tone colour scheme. All nine seats are striped to match.
Unlike the models originall imported into the UK, these Brazilian Kombis are water-cooled. They're powered by a flexfuel (alcohol or petrol) 1.4-litre four-cylinder 80bhp motor. Performance is leasurely, with an 85mph maximum and a 0-60mph time of around 16 seconds - although compared with the original, the Brazilian Kombi performs like a Golf GTI.
The price in Brazil is almost double that of the entry-level Kombi, coming in at around £22,600 compared with £12,200. The final Kombis arrive in Brazilian showrooms in September - and expect them to sell very quickly indeed.
Comments
Author

Keith Adams
Latest