New showroom opens at Aston Martin Heritage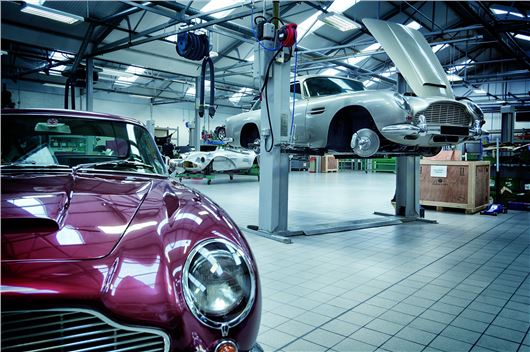 Published 20 June 2013
The Home of Aston Martin Works Service, and traditional home of the marque - Newport Pagnell - has received a boost with the opening of the Heritage Showroom. The new development, marking the culmination of two years' redevelopment.
For the first time classic Aston Martins will be sold directly from Newport Pagnell, giving customers access to the Works team and the Works Service restoration business. Customers will be able to view and compare cars from every era of Aston Martin's 100 years at Aston Martin Works.

Fittingly, the Heritage Showroom is housed within the restored Olympia building – itself also now 100 years old – which has been central to the Aston Martin story since its move to Newport Pagnell in 1957. The Olympia Building now offers a comfortable 'club-like' space for launches, special events, seminars and conferences.
The building, once an aeroplane hangar, became known as Olympia due to its similarity to the Olympia building in London. It has fulfilled many functions over the years, including use as a machine shop, trim shop and as a service department. Latterly it was the panel shop and home to craftsmen restoring the bodywork of Aston Martin classics.
Kingsley Riding-Felce, Managing Director, Aston Martin Works said: 'Aston Martin Works can now provide its customers with an exceptional service, spanning the most modern super cars to cherished heritage models; from sales, to ongoing service, maintenance and repairs, to full restoration.'
Comments
Author

Keith Adams
Latest