Race Retro: Jigsaw Racing challenged to build replica Le Mans Spitfire in three days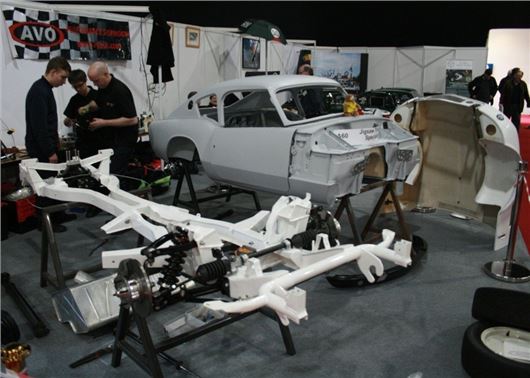 Published 21 February 2014
Triumph fans were treated to a live build of a replica Le Mans Spitfire at this year's Race Retro. Triumph specialist Jigsaw Racing challenged its team of mechanics to build a complete replica in just three days, with the final car set to be driven out of the show hall on the final day of the show.
The replica is being built from individual components over the duration of the show, with Jigsaw Racing hoping to drive the car out of the show on its final day, Sunday 23 February.  
"It's a huge project, but the lads are confident of finishing it before the show ends on Sunday," said Jigsaw Racing's Ross Brown.
"The project was inspired by the 1964 Le Mans Spitfires and the replica represents the 'spare' that was taken along to the race with the three race cars. Once built, it will be used as a crew car for this year's La Mans Classic. We'll then sell it, with prices starting at £25,000. However, if someone wants it in full FIA racing guise, we'll do that and start prices will start at £60,000.  
In addition to its impressive live display, Jigsaw Racing also had an additional three Triumphs on show in the halls of Stoneleigh Park, including the original 'ADU1B' 1964 Le Mans Spitfire as well as two replicas.
Jigsaw is aiming to enter the trio as a team into the 2014 Le Mans Classic to celebrate the 50th Anniversary of the Standard Triumph entry to Le Mans.  
Race Retro
Comments
Author

Dan Powell
Latest