Report: Peking to Paris, day three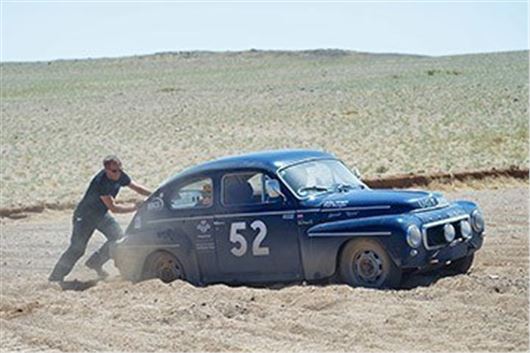 Published 30 May 2013
Erenhot to Altanshiree
Day three saw the teams face a tough 300km run into Mongolia. The vast, remote country would do its usual and pose all manner of navigational challenges.
Crews are set off at minute intervals. No regularity this, it's the real thing – cover the distance, as best you can, until you find the finish of the first of today's two Time Trials, it's more than 40km and takes the teams well beyond the horizon, with tracks spearing off left and right.
The route is so lonely, so remote, there is only one tree spotted all day – home to the only bird to fly over these parts. Now and then the competitors drove past the occasional white Yurt, collecting a wave from a family of nomads, but the day has mostly belonged to the drivers of the Peking to Paris Motor Challenge, where finding the way, and keeping the car together, has been the name of the game for most – while for some beating everyone else is paramount.
Gerry Crown was impressive in the big Leyland P76, barrelling through the soft sand, covering those digging their Volvo out of a bog in clouds of dust… the driver of the white VW, Garrick Staples, was awesomely quick, flicking from side to side over the ruts in the sand maintaining traction, and the 1974 World Cup Rally winning Big Citroen DS23 (below) just hoisted up its skirts on its adjustable suspension and glided through anything remotely difficult.
It doesn't take much time for the shortcomings of preparation to show themselves. Exhausts, engine mountings, suspension and fuel systems – some preparation garages have made things more complicated and therefore more troublesome and harder to fettle in the middle of nowhere – the sweep mechanics are going to be working long into the night. Lots of cars have been in real difficulties today. Car 1, the big La France, had a chain come off the chain-drive La France, and was the first car to go down.  Most have suffered suspension troubles.
There is a great atmosphere in the camp site tonight, but the Sweeper Mechanics look like burning another drum of midnight oil to get everyone fit for more of this tomorrow…
Comments
Author

Keith Adams
Latest