Report: Peking to Paris, day six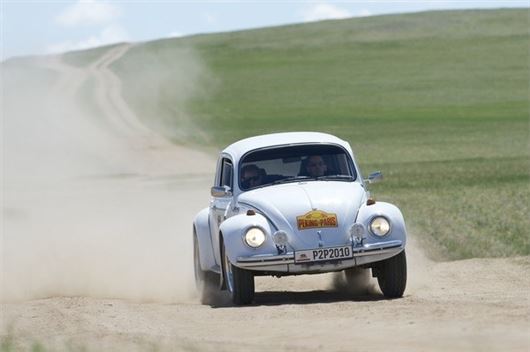 Published 03 June 2013
Ulaan Baatar to Bulgan
The Peking to Paris competitors left the Mongolian capital of Ulaan Bataar this morning to the sounds of the local brass band, with cars lined up in a street closed down especially, and once flagged away, immediately headed westward down ribbons of dusty gravel tracks.
It has been a long day of over 300km and the track was a lot more demanding than previous days. Here the yellow Volvo of Kerry and Kevin Finn and the red Volkswagen Beetle of John and Brett Layzell immediately became bogged down, and required the tug of tow ropes from Sweeps Owen and Jamie Turner, and Simon Ayris, who also got bogged in the claggy quagmire.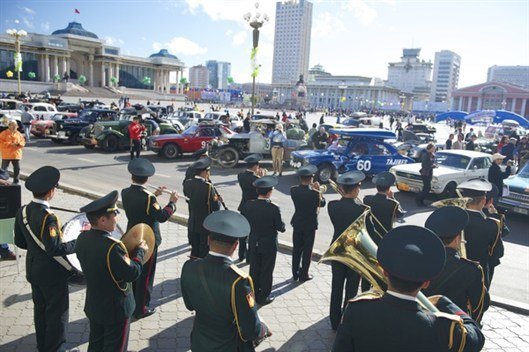 It was a bad day for the white VW Beetle of Garrick Staples and Heydon Burville, who rolled the car, and rolled out of the event. The car flipped over and then over again to land back on its wheels. With the roof damaged, along with a few other dents, the car was driven to the end of the test-section. The crew were fine but have decided the car is too badly damaged to continue. Garrick was setting a blistering pace when the combination of humps, blind crests and sudden gullies caught him out.
For the black Rockne 6 of Mani Dubs, from Switzerland, running well up in the Vintageant Category having posted some good times, the morning was something of a disaster as it took nearly half an hour to recover the heavy American saloon. With the mud in the middle of a Time Trial, minutes as well as seconds were counting – those who stopped work out the right route took a long sweep out to the left, and missed the quagmire.
The Renault 4 stopped near the end of the day with transmission problems, which sounds serious. Car 20, the 1933 Delage of Jan de Clerk, is joining us in Novosibirsk after suffering engine problems – a sad retirement given this is the third Peking to Paris for this car. Car 97, the 1964 Mercury Park Lane of Jan Pettersson, was in difficulty again, this morning it broke down on the start line and went off to a local garage for two hours and then set about playing catch-up.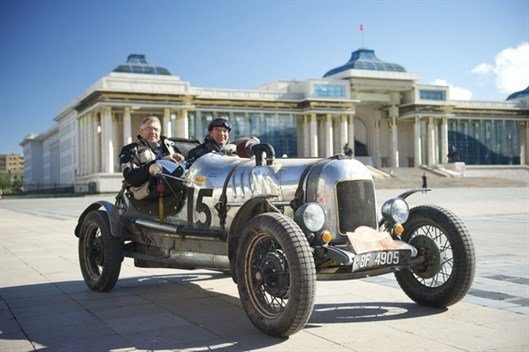 Comments
Author

Keith Adams
Latest