Sweeney Consul restoration to be unveiled at NEC classic motor show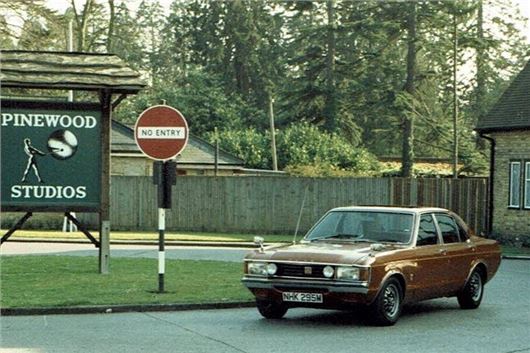 Published 21 October 2019
The restoration of a Ford Consul GT that featured heavily in the first series of the 1970s cult classic cop show The Sweeney is to be revealed at the NEC classic motor show next month.
This 1974 model was supplied to Euston Films, part of the Thames TV company, from new for use in a new TV series called The Sweeney. Ford had originally supplied a blue Consul but the producers apparently asked for it to be replaced with one painted in a brighter colour to stand out for the camera against a drab London background.
The Consul was used for the entire series one production and most of series two before being replaced by Ford with a Granada 3.0S shortly after the Consul range discontinued production in 1975.
Appearing in the opening title sequences of the first three series, the Consul was on-screen with the show's lead actors John Thaw, who played Regan, and Dennis Waterman as Carter, along with their boss Haskins, played by Garfield Morgan.
This Consul was used in some of the most remembered 1970s TV classic car chases around west London and consequently was fitted with some non-standard equipment including a full engine sump guard, full fuel tank shield and a bulkhead brace bar.
The current owner, known to those who have been following the build on social media as Mr Shifter, bought the car in 1988 in the Slough area and used it regularly until it was taken off the road in 1989 after failing its MoT on structural corrosion. It was placed into storage until it was finally rebuilt and the restoration completed earlier this year by the team at MBVR Ltd.
Mr Shifter said, 'My thanks go to all the companies and people who have worked hard to get the car back to full health after almost thirty years off the road.'
The Ford Consul will take pride of place at the entrance to Hall 5 of the Lancaster Insurance Classic Motor Show, with Discovery, so they'll be no chance of missing it over the weekend of 8-10 November. 
Tickets are now on sale for this year's Lancaster Insurance Classic Motor Show, with Discovery. For more information including ticket options and booking details, visit www.necclassicmotorshow.com.
Comments
Author

Keith Moody
Latest