Porsche celebrates 40 years of the 928 at NEC show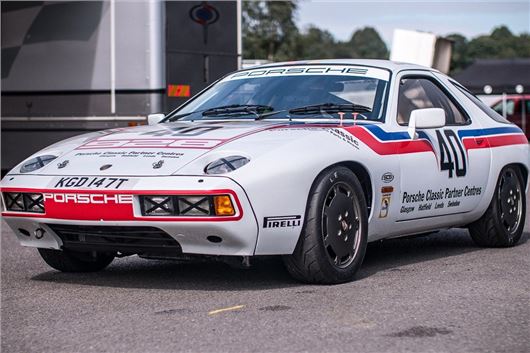 Published 12 October 2017
Porsche GB will celebrate 40 years of the 928 at this year's NEC classic motor show. In 1977, Porsche launched an all new front-engined sports car. Originally designed as a replacement for the 911, the 928 was a grand tourer powered by a Porsche designed 4.5-litre V8 engine producing 240hp.
A focus on lightweight construction saw the extensive use of aluminium for the body panels rather than traditional sheet steel. The 928 never did replace the 911 yet still secured its place in Porsche history as an outstanding car and the last of the traditional two-door, transaxle models.
To mark the anniversary, four UK Porsche Classic Partner Centres have entered a 1978 928 in the 2017 season of the HSCC 70s Road Sport Championship, with racing legend Richard Attwood at the wheel.
British racing driver Richard Attwood raced for the BRM, Lotus and the Cooper Formula One teams, competing in 17 World Championship Grand Prix, achieving one podium and scoring a total of 11 championship points. He was also a successful sports car racing driver and won the 1970 24 Hours of Le Mans race, driving a Porsche 917.
Racing driver Richard Attwood will be competing in a 928.
Porsche GB now has four dedicated Porsche Classic Partners in Glasgow, Hatfield, Leeds and Swindon specialising in classics.
James Toye, business development manager for Porsche GB, said, 'For us, tradition and innovation are bound closely together. More than 70 per cent of all Porsche vehicles ever built are still on the road and therefore play a defining role in shaping the fascination of the brand.
'Porsche Classic is highly committed to prolonging the service life of every classic Porsche, offering experts who combine service and advice with the relevant expertise and enthusiasm. Each Classic Partner showroom has a Classic Corner, featuring vehicles and parts displays that tell you at first glance that you and your classic car are at the right address,' he said.
The Lancaster Insurance Classic Motor Show, with Discovery, is held over the weekend of 10-12 November at Birmingham's NEC. For more information visit www.necclassicmotorshow.com.
Comments
Author

Keith Moody
Latest