Alpine triumphs at Concours de l'Ordinaire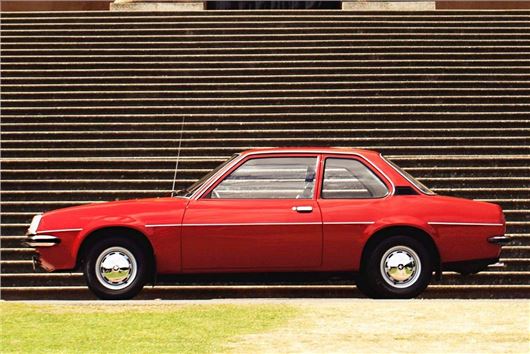 Published 14 August 2018
A record number of enthusiasts of the motoring mundane gathered at the imposing surrounds of Stowe House in Buckinghamshire to take the ultimate motoring nostalgia trip at the special Fifth Anniversary edition of the annual Hagerty Festival of the Unexceptional Concours de l'Ordinaire.
Classic vehicle insurance specialists Hagerty International created the first Festival of the Unexceptional (FOTU) five years ago to highlight the attrition rate of some of the most popular and best loved vehicles of our recent motoring past, with the event now becoming a focal point for the core enthusiasts who take real pride in their rare and long-forgotten everyday family cars of the 1968-1989 'Unexceptional Era'. 
Against the magnificent Stowe House backdrop, the FOTU concours cars filled the front of the beautifully manicured Stowe lawn, with 50 expertly selected Unexceptional models vying for title of Best in Show. These included a wonderfully original 1979 Citroen GS X3, one of only two road-worthy survivors in the UK, a 1975 Volvo 66 GL saloon – the oldest known example of this ex-DAF model – plus an as-new and very scarce 1971 Fiat 125, an early 1982-built Ford Sierra 1.6L and a very beige (Harvest Gold in BL parlance) 1975 Austin Allegro 1100 with its Quartic steering wheel and hot and sticky PVC brown interior trim.
Among the many cars falling into the 'I haven't seen one of those in years' category was a 1975 Volkswagen 412 4-door saloon (Britain's sole survivor), plus a 1985 Mazda 929 Estate, a 1982 Peugeot 104 Z 'Shortcut' coupe and a wonderfully bland dark blue 1989 Vauxhall Astra Mk2 Estate that looked like a photocopier sales rep's company car.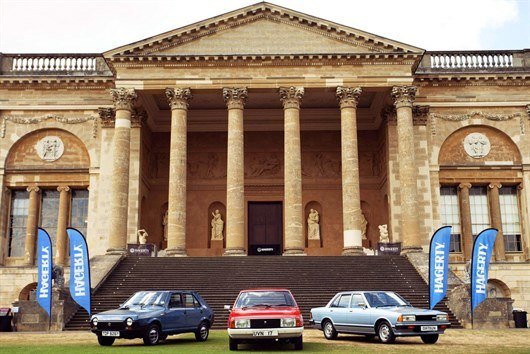 With the bland leading the blind, the hard-fought judging of the 50 vehicles displayed on the immaculate Festival of the Unexceptional lawn saw the six-strong judging panel of mundane motoring masterminds – including TV's Edd China and Jon Bentley – admiring a selection of taupe, brown and yellow coloured family saloons and estates, many equipped with rubber flooring, squidgy vinyl seats, no radio, manual wind-up windows and 'genuine' faux Formica wood inserts. 
After a session of deliberation, the six judges emerged and the winners were announced to a large, expectant and sun-tanned crowd, with the 2018 Hagerty Festival of the Unexceptional winners being as follows:
Best in Show: 1977 Chrysler Alpine (Guy Maylam)
Second Place: 1981 Datsun Bluebird GL saloon (Kev Curtis)
People's Choice: 1982 Fiat Strada 65CL (Gavin Bushby)
Junior Judges Choice: 1979 Vauxhall Cavalier L 2-door saloon (Jason Himpson)
Best Dressed: Edward Morley (1972 Renault 16 TS)
Feast of the Unexceptional/Best Picnic: Julie Gandolfi (1983 Mercedes-Benz 200T)
The Best in Show winning pre-Talbot 1977 Chrysler Alpine was an exceptional example of a truly unexceptional car, fully restored and finished off just the night before the 2018 FOTU by Chrysler/Simca enthusiast Guy Maylam. The Chrysler is one of only 13 Alpines left in the UK, a pioneering family hatchback that won the coveted European Car of the Year title for 1976 but failed to wrest sales away from more successful contemporary rivals such as the Ford Cortina, Vauxhall Cavalier and Morris Marina.
As a three-time FOTU participant and supporter (his sole-surviving Simca 1100 Estate was commended last year), Guy spent more than 1000 hours 'of hard slog' bringing his rare Alpine back from the dead. He says, 'This example was a dreadful car, but once you start the restoration, it's difficult to stop!
'My Best of Show win was third-time lucky and totally unexpected. I really appreciate what Hagerty has done for the bread-and-butter car movement and the Unexceptional justifies having these unloved cars.'  
The second-placed, low-mileage 1981 Datsun Bluebird 1.6 GL saloon was utterly unexceptional in every way, with entrant Kev Curtis and a couple of friends really getting into the spirit of the event by dressing-up as dodgy used car dealers, replete with period pork pie hats, an old car showroom desk, period beige plastic telephone and old copies of magazines and car valuation guides. FOTU regular and keen Fiat enthusiast Gavin Bushby was delighted to receive the sought-after People's Choice award for this very original 1982 Fiat Strada 65CL, complete with wonky glove box lid, just how it was built (by robots!) in Turin 36-years ago.
The Best Dressed prize for entrants wearing clothes appropriate to the era of their car went to 24-year old Edward Morley with his honest 1972 Renault 16 TS, braving the mid-July heat in his early 1970s blue flared suit and beige shirt and tie. The winner of the Hagerty Feast of the Unexceptional period picnic was Julie Gandolfi with her base-model Mercedes-Benz 200T (W123) that her Father bought new in 1983. Julie even had a photograph of her aged four with the Mercedes, so the judges insisted on taking another photo of her with the car now, standing in the exact same position!
A small selection of appropriate FOTU visitor's cars were plucked out of the 400+ strong Unexceptional classic car park, including a 'space hopper' orange 1977 Lada 1600 ES with its original paint and black vinyl roof, plus an early 1972 Fiat 128 saloon and 'exotic' 1980 Skoda S110 R Coupe.
Being the fifth anniversary of the Hagerty's celebration of the brilliance of the bland, two additional special displays of Unexceptional cars were also held at Stowe House. The first of these saw the welcome return of each of the previous FOTU Best of Show winners, an uncommon Alfasud-powered 1985 Nissan Cherry Europe that won in 2014, the 2015 winning 1978 Ford Escort 1600L four-door Mk2, a 1980 Morris 575 'Marina' pick-up from 2017, and the 1983 Datsun Sunny 1.5GL that took the award last year.
These past victors were joined by the previous runner-up cars, plus past People's Choice winners, including a 1971 Ford Cortina Mk3, a pair of Hillman estates (1974 Avenger and 1968 Minx) and the world's oldest Austin Allegro, a pre-production December 1972 1750 SS. The other special 'Invitation Class' display saw a number of vehicle manufacturers presenting ordinary cars from their own marque heritage collections, including Mitsubishi Cars UK bringing its original 1974 Colt 2-door press car along to Stowe House, joined by Toyota GB's 1967 Corona, Audi UK's 1971 80 Estate and the Vauxhall Motors Heritage fleet's 1971 Viscount PC. 
Commenting on the fifth anniversary Festival of the Unexceptional, Angus Forsyth, managing director, Hagerty International, says, 'When we first developed the idea of the Festival of the Unexceptional, we wanted to raise the profile of vehicles which are not seen at Pebble Beach, Hampton Court, Goodwood or other such prestigious Concours events. While those events have their very obvious place in our classic car world, we were keen to increase the profile and awareness of the new all-too-forgotten ordinary cars to whom a large majority of people can truly relate; the first car you drove, your parent's car or simply the car you admired on your neighbour's drive.'
Angus continues, 'We wanted to create the ultimate automotive nostalgia trip and elevate the standing of these unexceptional and long-forgotten vehicles that used to form an important part of every British high street but have all but now disappeared. The growth and popularity of the Festival of the Unexceptional over the last five years suggests we have really tapped into something very strong and good. Long may it continue.'
Comments
Author

Keith Moody
Latest
Compare classic car insurance quotes and buy online. A friendly service offering access to a range of policies and benefits.

Get a quote