450 veterans set for London to Brighton run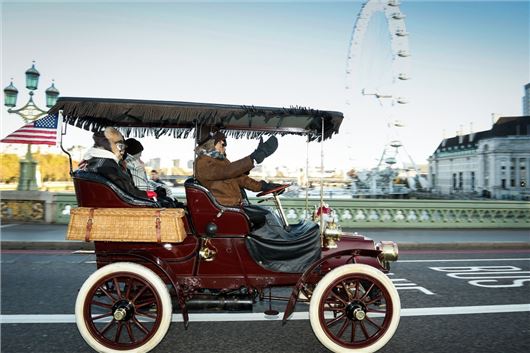 Published 13 October 2017
More than 450 pioneers from the era of the horseless carriage have signed up to this year's London to Brighton Veteran Car Run – making it the biggest turnout for five years.
While the bulk of the entries come from the UK, Europe and the Channel Islands, many of the cars have come from much further afield. Some will make their way to London from Argentina, Australia, New Zealand, Hong Kong, Norway, South Africa and the Unites States.
In all, 23 countries are represented in an entry list, which includes 34 new participants on the run, while a further 18 have returned after missing the 2016 event.
Scores of different makes are represented from the familiar - such as Ford, Renault, and Vauxhall - to the forgotten, such as Brush, Gladiator, Achilles, and Bolide.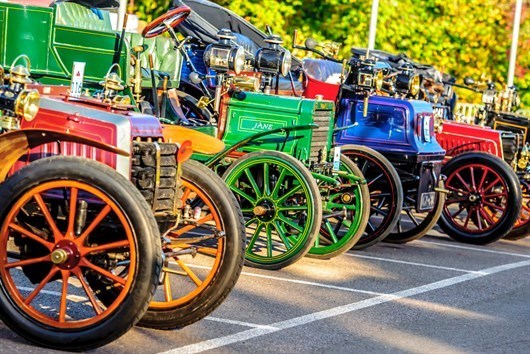 Expect a colourful line up of veteran cars on this year's run.
And although the majority are petrol powered, the starters will include three electric vehicles and a smattering of steam-powered machines. There will als0 be three- and four-wheeled cars, some with tillers and some with steering wheels.
All will leave Hyde Park as dawn breaks on Sunday, 5 November, and hope to make it to Brighton's Madeira Drive before 4.30pm to gain a finisher's medal. Not all will make it, though, with mechanical breakdowns being part and parcel of the epic trip.
Although every car entered on what is the World's longest running motoring event comes with a fascinating history, some are more special than others.
The oldest vehicle on this year's run is an 1893 Peugeot that was built a mere seven years after the world's first car, the Benz Patent Motorwagen, stuttered into life.
Salvesen Steam car is always a crowd favourite.
Another Peugeot dates back to 1897 and is believed to be the only surviving Type 14 of the 18 originally built still in running condition. The Type 14 was the very first model to use a Peugeot-designed horizontal twin engine, before this all Peugeots used engines supplied by either Daimler or Panhard.
Other highlights include the 1896 Salvesen steam car, which looks more like an early locomotive than a car, and the ever-popular 1901 Pope Waverley electric car from the Harrods stable.
The Pope Waverly is just one of a collection of vehicles which Official Partner Harrods has preserved as a nod to the store's rich history as a pioneer in electric vehicles in London.
Among the stars taking part are Pink Floyd drummer and car collector Nick Mason, who will be driving his 1901 Panhard et Levassor, one of almost 200 French-built cars on the run. Thierry Peugeot and Robert Panhard are two more notable participants – they are both direct descendants of the founders of the famous automotive companies that bear their respective names.
The Harrod's-owned Pope Waverley outside Buckingham Palace.
British marques are well represented with cars from Vauxhall, Wolseley, Humber, Riley and Siddeley among the more familiar names. One notable veteran is an 1894 Santler Dogcart, believed to be the oldest British car in existence.
The 3½hp machine was built in the town of Malvern - now better known as the home of Morgan - and was originally steam-powered before it was given a Benz petrol engine later in its life. 
Comments
Author

Keith Moody
Latest
Compare classic car insurance quotes and buy online. A friendly service offering access to a range of policies and benefits.

Get a quote