Vauxhall Heritage collection to open its doors in June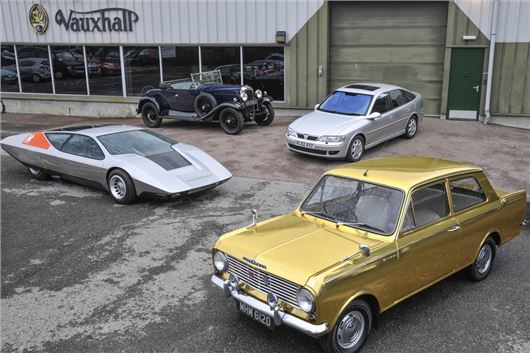 Published 04 May 2016
Cars from Vauxhall's Luton-based Heritage Centre will be on show to the public for one day only in June. The doors to the 73-vehicle collection, which contains classics from every decade since the company started building cars in 1903, will be opened on Sunday, 12 June.
This year's event will celebrate two anniversaries. First of all, it's 50 years since the first Vauxhall Viva HB rolled off the Ellesmere Port's production line; and secondly it's 30 years since the last Bedford commercial vehicle was made.
Enthusiasts will be able to see an early SL-model HB on display, as well as two CVs that bookended Bedford production: a 1931 two-ton truck and two CFs (a one-off electric model, and a near concours production panel van).
There will also be two new additions to the collection on show. One is a 2009 Astra VXR Nurburgring, which joins two GTEs, a Mk3 GSi, and a Mk4 888 coupe. At the opposite end of the spectrum, a 1949 Wyvern L-type also makes its debut at the open day.
The breadth and quality of Vauxhall's Heritage Collection is near-unique, with most of the cars roadworthy and maintained by a small team, led by senior vehicle restorer Andy Boddy. Most of the cars were also built in Luton.
Vauxhall's Heritage Centre Open Day will run from 10am to 4pm. Refreshments will be available throughout the day, and parking is free. The Heritage Centre is situated behind Vauxhall's head office on Park Street, Luton LU1 3HG.
Comments
Author

Keith Moody
Latest