Future Classic: Vauxhall Astra VXR Nurburgring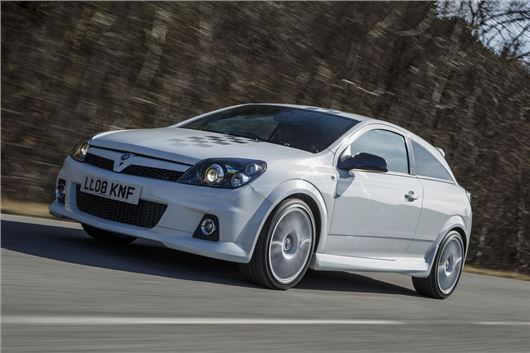 Published 02 March 2016
Vauxhall launched the Astra VXR Nurburgring special edition in 2008 to celebrate the model's success at the famous German circuit. The success dates back to 2005 when a standard VXR lapped what proper drivers like to refer to as the 'Green Hell' with a time of 8:35 – the quickest time for a hot hatch over the 13-mile circuit.
Vauxhall's moment of glory didn't last long however and, just as in the sales charts, the Astra was soon beaten by the Ford Focus. But while the ST (as with most fast Fords) is well on its way to becoming a modern classic, the rapid Astra seems to have sidestepped recent memory. To find out why, we got behind the wheel of one.
That is, as much as you can get behind the wheel of one. The VXR, unfortunately, has a rather unpleasant driving position. Forget being hunkered down low, wrapped in race-style seats with supportive side bolsters – this Vauxhall leaves you perched up high and wondering why you can't get the seat any lower.
Not a great start, then. And the styling doesn't help. We all want our hot hatches to look like they mean business. But I think Vauxhall may have taken its eye off the ball when it opted for brilliant white paint, chequered stripe, Nurburgring logo, and carbon fibre door-mirror trims. It looks like it was designed by Halfords.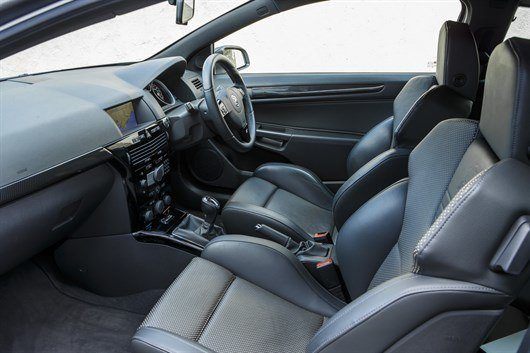 Push the starter button and things improve once the 2.0-litre gets going. Unlike the normal VXR, this special edition has a race-tuned Remus exhaust which not only adds an excellent soundtrack to any Tescos trip, but frees up another fifteen or so horses. This is by far and away our favourite bit of the whole car.
At idle, the soundtrack is a slightly threatning rumble. Squeeze the throttle hard and it's a roar (just what you want in a 250bhp hot hatch). Lift off for a gear change and you get the fizzing, popping, and banging normally reserved for touring cars. In my head, down shifts are perfectly executed, with heel and toe-ing that John Cleland would be proud of. And there's fire spitting out the back of the exhaust and everything.
The reality's a bit different, though. The Astra pleasantly surprises on the road – although steering feedback is less than you'd want from a hot hatch, there's a lot more grip from the front tyres than I was expecting. But the suspension is too hit and miss to make this car a force to be reckoned with... in my hands, at least. At times it's perfect with the front-end firming up right when you need it to, but at other times it just feels too soft – or conversely, too crashy as the rear struggles to cope with a few bumps.
Unlike the driving position, you soon get used to the ride and handling and can get the best out of the car without too many surprises. And, when you're done trying to get your best lap time, take it out of sport mode, change gear below 3000rpm and you can quite happily pick the kids up from school and finally show that Zafaira GSi you've been eyeing suspiciously who's boss.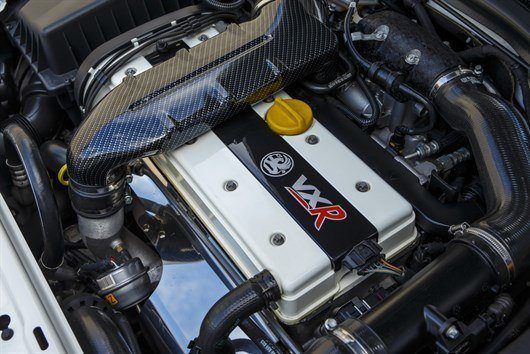 But now we come to the elephant in the room. Because as good as this special edition is, it does unfortunately serve as a constant reminder of just how far Astra was behind Focus in the mid-Noughties. From the awful centre console with its BBC Micro-spec graphics, to the horrible switch gear and 'those' indicators. Such low points can, though, be a major part of the draw – but while it might work for the Austin Maxi, it's not always the case with hot hatches.
If you've decided that the VXR Nurburgring is an absolute must buy – what will it costyou? A quick look on eBay shows prices starting at around £7500 and rising to a rather optimistic £12,000. With only 835 made (in honour of the 8:35 lap time), this is a classic that will retain its value – but we reckon it's got a bit further to go on the depreciation curve. So, if you do really want one, then keep an eye on prices over the next 18 months.
Comments
Author

Keith Moody
Latest