HRDC Launches Race for All Pre 1966 BMC A Series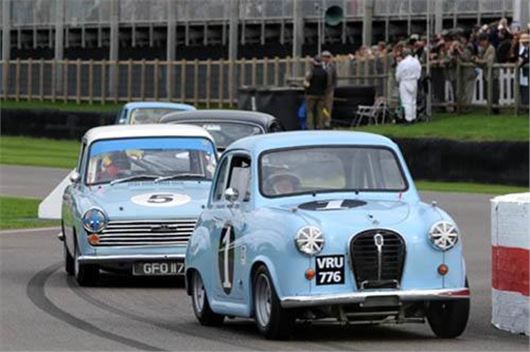 Published 12 October 2015
Julius Thurgood's Historic Racing Drivers Club has announced the first-ever race for pre-'66 BMC 'A-Series' powered Sports, GT & Touring Cars at Donington on 7 November.
After the success of an all-A30/35 race at Mallory Park on 26 September, HRDC Race Director, Julius Thurgood has brought forward his plan to launch a series expressly for BMC A-Series powered cars.
"I have been working on this for some time now. The ubiquitous BMC 'A-Series' powerplant has been with us in motorsport for decades and has spawned so many interesting variants. However, most categories seem to run in separate classes and categories. But why should they?"
"The HRDC has proved over many past seasons that its mixed-format policy works, with the successful HRDC 'Allstars' Series catering for all types of pre-'66 Sports, GT & Touring cars, so why not bring all the pre-'66 BMC 'A-Series' powered cars to race together under one format?"
"I am sure that it will provide spectacular racing and will be of great interest to both competitors and spectators alike. I would like to thank Donington Park Racing's ever-enthusiastic MD, Christopher Tate, for helping to facilitate this opportunity".
So expect to see Minis, Speedwell & Sebring Sprites, Lenham and Ashley Midgets, Austin A30/35/40 touring cars (not forgetting Morris Minors and MG1100/1300 saloons!) plus a selection of rare variants, in the form of Ogle, Deep Sanderson, Fletcher, Marcos, D.A.R.T, Unipower, Cox GTM and WSM.
All competitors with pre-'66 BMC 'A-Series' powered cars are welcome to participate in this inaugural event at Donington. The race format will be for a single driver, 30-minute event, with 15-minute qualifying. All cars must run on Dunlop CR65 historic race rubber. HTP forms will NOT be required for this event.
Entry forms for this event can be obtained via: http://hrdc.eu/entryforms.htm.
COMPETITION & MEDIA ENQUIRIES: JULIUS THURGOOD Mobile: 07850 361159 Email: direct@juliusthurgood.co.uk Website: http://www.hrdc.eu
Comments
Author

Honest John
Latest