Racing Astons return to Hotel de France after 52 years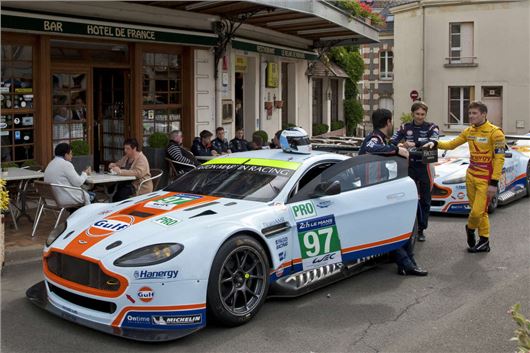 Published 02 June 2015
The town of La Chartre-sur-le-Loir once again echoed to the roar of racing engines on Monday, 1 June, when Aston Martin Racing cars returned after a gap of some 52 years.
From 1953 until 1963, the Hotel de France at La Chartre-sur-le-Loir was the base of the Aston Martin team for the 24 Hours of Le Mans. Drivers and mechanics would prepare their cars in the hotel's courtyard and then drive them on public roads to the famous circuit – now history has repeated itself.
On Monday, after two days of testing at the Le Mans circuit, three of this year's Aston Martin Racing V8 Vantage GTEs and their drivers, Darren Turner, Richie Stanaway and Mathias Lauda, recreated some of the famous photographs and film footage from the 1950s of the cars being prepared at the hotel and leaving for Le Mans.
The Hotel de France's association with motor sport and the Le Mans 24-hour race started when John Wyer, a hard-nosed straight talking Aston Martin team manager, discovered it in 1952 and then based his teams there.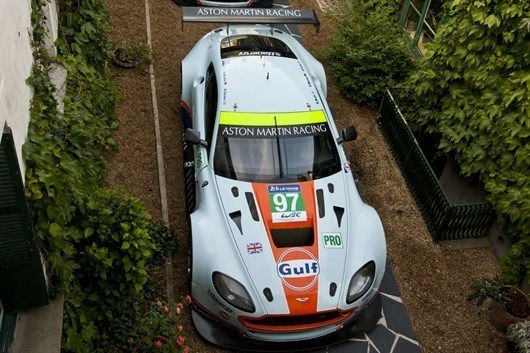 Every year hundreds of local people and motorsport enthusiasts would gather in the small French town to catch a glimpse of the cars and see them leave for Le Mans, filming and taking photographs of the drivers and cars.
In 1959, the hotel saw its first victory party, the first of many, when the Aston Martin DBR1, driven by Carroll Shelby and Roy Salvadori, won the race for the Aston Martin team managed by the legendary Wyer.
Since then, many teams have used the hotel, which has become a mecca for motoring enthusiasts from around the world, but the Aston Martin team had never been back.
Martin Overington, owner of the hotel, which he purchased and refurbished last year, said: 'This is one of the biggest events that has ever taken place at the hotel. It is literally history repeating itself and we are delighted to be welcoming the racing cars, their drivers and of course David Richards, the Chairman of Aston Martin Racing.' 
David Richards, Chairman of Aston Martin Racing, said: 'The Hotel de France is an important part of Aston Martin's motorsport heritage, having been the team's Le Mans base for many years in the late 1950s, including 1959 when the team won the 24-hour race. This year, we wanted to recreate the nostalgia of those days, when the racing cars had their final preparations alongside the hotel before being driven some 40km to the circuit along public roads.'
Comments
Author

Keith Moody
Latest