Royal route for London to Brighton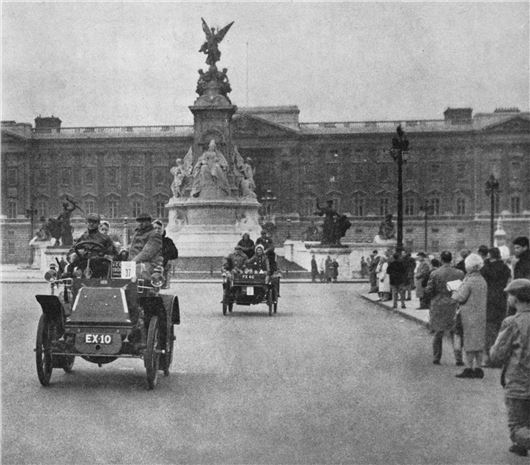 Published 23 September 2014
This year's London to Brighton veteran car run will drive down London's 'red carpet road' The Mall in November – for just the second time in 50 years.
A regular part of the route for the first half of the 20th century, The Mall has only been used once since 1962. That was in 1996 when the annual 60-mile adventure marked its 100th anniversary.
But this year, the 433 horseless carriages will be able to use The Mall once more when the event takes place on 2 November.
So after starting as normal from Hyde Park, they pre-1905 veteran cars will pass under Wellington Arch and head down Constitution Hill towards Buckingham Palace.
After rounding the Victoria Memorial, the cars will drive along the red asphalt of The Mall before turning right into Horse Guards Road and then left towards Parliament Square, Big Ben and across Westminster Bridge.
Entry is up to 433 this year from 389 last year. The oldest car on the event is a circa 1888 Truchutet – a 4hp open tonneau.
Famous names pack the entry list: Benz, Daimler, Vauxhall, Peugeot and Renault. Spectators will be able to see steam-powered cars, electric cars, three-wheelers as well as petrol-powered four-wheelers.
The London to Brighton is the world's longest running motoring event. The original 'capital-to-coast' Emancipation Run was held on 14 November 1896.
It marked the Locomotives on the Highway Act, which raised the speed limit for 'light locomotives' from 4 to 14mph. The Act also abolished the need for vehicles to be preceded by a man on foot waving a red flag.
The first re-enactment of the Emancipation Run took place in 1927. It has been held every year since, apart the war years and 1947 when petrol was rationed.
The run is the highlight of a long weekend of motoring nostalgia in the capital. On Friday, 31 October, Bonhams Auctions will hold its annual Veteran Car sale. And on Saturday, 1 November, there will be a free Regent Street Motor Show.
Comments
Author

Keith Moody
Latest