Get ready for Pistons and Props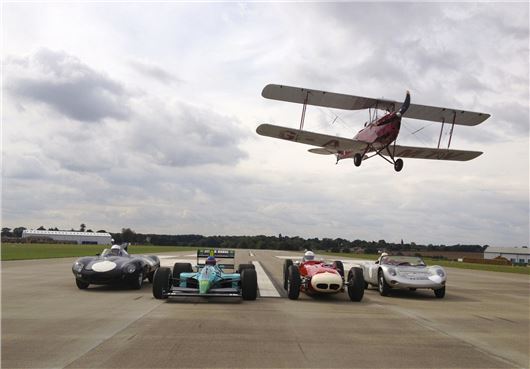 Published 17 September 2014
Historic racers, hot rods, motorbikes and classic planes – you'll find them all the Swyell Classic 'Pistons & Props' motoring festival.
Held at the Sywell Aerodrome in Northamptonshire on 27-28 September, you can expect to see more than 70 cars blast up the runway, from a 1929 Amilcar CGSS Monoplace and a Riley Brooklands of the same year, to a 1983 Lancia LC2 with its Ferrari engine and iconic Martini livery.
There'll also be some amazing aerial displays as well as a fly past from a Lancaster, Spitfire and a Hurricane on Saturday. On Sunday, the Spitfire will be joined by several period planes to recreate a World War One dogfight.
Back on the ground, there are displays from more than 60 car clubs, as well as the Wall of Death, sideshows and lots of music to keep families entertained. Expect visitors to be dressed up in vintage clothing for a great atmosphere.
Adult tickets for Sywell Classic are £14 in advance or £18 on the gate. Tickets for children aged 5-15 are £5 in advance or £7 on the day with free entrance for those under five. To book, visit www.sywellclassic.com.
Comments
Author

Keith Moody
Latest