'F1' plate on sale for £10m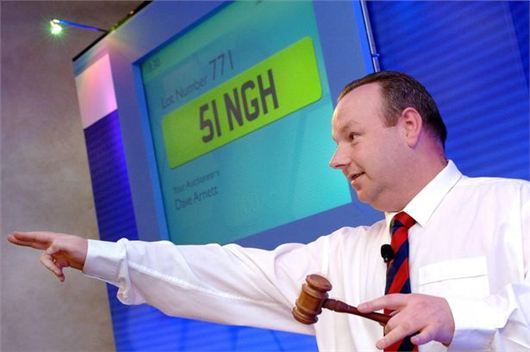 Published 08 July 2014
The numberplate 'F1' is up for sale for an eye watering £10million. The cherished registration, which was bought for £440,000 six years ago, has been listed by its owner Afzal Kahn, who has it registered on to his Bugatti Veyron sports car. 
It's alleged that Mr Kahn turned down an offer of £6 million in 2013, but now appears to be willing to sell, with a list price of £10,009,995. The 'F1' plate was previous registered to a Volvo S80 and owned by Essex County Council, but was sold by the council to raise money for training young drivers. 
Mr Kahn paid the council £400,000 for the plate - then a record - but now appears to be ready to cash in on his investment. 
Market experts Carreg.com are certain that £10m is achievable, but are undecided on how high the sky limit could be for a British registration mark.    
"Number '1' plates have always been considered as the ultimate cherished numbers and are often the most valuable registration plates found on the market," said Russell Palmer of Carreg.com. 
"Often these will command three or four times and sometimes greater the value of a corresponding single digit number plate bearing the same initials. Registration marks such as MB 1 was once owned by Max Bygraves and Sir Alan Sugar is chauffeured around in his Rolls Royce with the reg mark AMS 1."
The third DVLA Auction Sale of 2014 takes place on 16-18 July with 2014 marking the 25th Anniversary of the DVLA commercially selling private number plates via this kind of auction.  
Plate of interest include FER 512X,  918 POR, THE 235A, AV14 TOR, PE64 SUS, AL13 ERT. There are also no fewer than 12 rare Number 1 registrations included such as 1 WCT, 1 WWX, 1HPV, 1 OUF, YJT 1, 1 RVF.
Hundreds of number 1 plates are already advertised and can be found with agents such as Carreg.com  http://www.carreg.co.uk/buy-number-plates/1-plates/
Comments
Author

Dan Powell
Latest