Commemorative Jaguar D-type Race at Goodwood Revival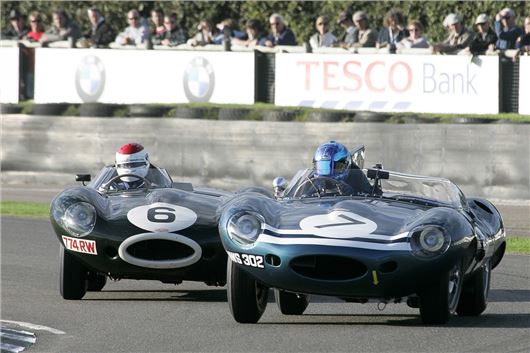 Published 22 July 2014
To celebrate the 60th anniversary of the Jaguar D-type, there will be a special commemorative race for them on Saturday 13th September. 
30 surviving Jaguar D-types have been invited from all over the World to take part in the Lavant Cup, which will be held on the second day of the three day Goodwood Circuit Revival. 
The cars are expected to include regular-bodied D-Types as well as the later 'long-nose' versions. Examples of the D-type's road-going variant and E-Type fore-runner Jaguar XKSS will also compete, while the experimental E2A, the one-off prototype that acted as the bridge between the D and the later E-type, is also set to race. 
The D-type replaced the successful C-type and made its competition debut in 1954. It went on to win the Le Mans 24 Hour endurance race the following year with Mike Hawthorn and Ivor Bueb driving for Jaguar's works team. 
The Scottish Ecurie Ecosse outfit added more Le Mans victories for the D-type in 1956 for Ron Flockhart and Ninian Sanderson, and in 1957 for Flockhart and Bueb. 
In 1957, five of the top six finishers at Le Mans were D-types; the first four all powered by the 3.4-litre engine and the JD Hamilton car in sixth of Duncan Hamilton and Masten Gregory equipped with a 3.8-litre powerplant. 
D-types have also raced before at the Goodwood Revival. Most recently, Gary Pearson won the 2006 Sussex Trophy, and touring car legend Anthony Reid won the same race in 2013. 
Goodwood Revival on social media: 
YouTube: http://youtube.com/goodwoodtv 
Facebook: http://www.facebook.com/goodwoodrevival 
Twitter: http://twitter.com/goodwoodrevival 
Comments
Author

Honest John
Latest