Brian Johnson Reckons Croft Nostalgia Rocks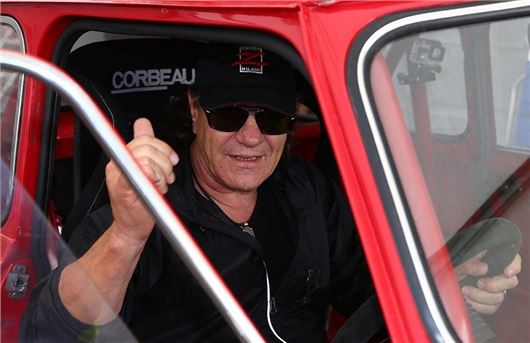 Published 03 August 2014
After a weekend's racing at his home circuit of Croft, AC/DC frontman Brian Johnson reckoned "the racing was fantastic."
Sunday 3 August delivered a second dose of racing action and on-and-off-track entertainment.
The Mini Coopers that set the pace on a wet Saturday duelled for the lead again in Sunday's Historic Touring Cars race, before the Ford Lotus Cortinas and Warren Briggs' menacing Mustang powered to the front of the field. 
AC/DC's Johnson made it two top ten finishes in as many races, hustling his Mini Cooper to eighth overall and class victory. And he clearly had a ball along the way.
 
"I absolutely loved the Croft Nostalgia Weekend," he enthused. "I just wish it had gone on for longer! I think I got to drive in pretty much all conditions, from blazing sunshine to rain of near-biblical proportions! It's a tricky, fast and fabulous circuit and I'm still learning it now! I'm pleased as punch to have come away with a trophy too.
 
"The racing was fantastic. I think the drivers here must get fed on raw meat before they go out – they certainly don't go easy on newcomers! I saw some of the best driving I've ever seen. There was one Mustang that went past me completely sideways – I would have applauded but I would probably have gone off the track! There were little Hillman Imps like buzzing hornets – and I love these Minis!
 
"The camaraderie is superb, there's a great atmosphere and the effort that goes into putting it all together is phenomenal. I'm a military history buff myself, so to see all the army vehicles and policemen in military uniform was absolutely awesome. Now I just hope I can come back next year!"
Full results from today's racing at Croft Nostalgia Weekend can be found by selecting 'HSCC' and then 'Croft' at: http://results.mstworld.com/Results# (no direct link).
Comments
Author

Honest John
Latest