Report: Spa Six Hours Motor Racing Legends, Belgium, 21 September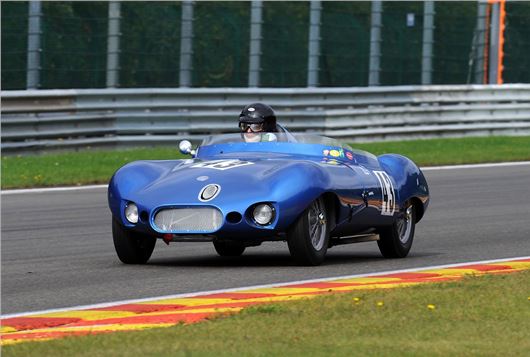 Published 30 September 2013
There was no stopping Chris Ward in the Royal Automobile Club Woodcote Trophy (pre-1956) and Stirling Moss Trophy (pre-1961) sports car races run concurrently at Spa-Francorchamps on 21 September, as part of the Spa Six Hours weekend meeting.
The Silverstone Driving Experience chief instructor won both races – with the help of Andrew Smith and John Young, respectively. Oliver Bryant headed the sensational 57-car field in the Friday qualifying session, the BRDC member hurling his 2-litre Lotus 15 round in 2m 54.566s as the younger SMT machines took 11 of the top 12 places. Jon Minshaw/Phil Keen (Lister-Jaguar Knobbly) claimed the other front-row qualifying slot, with Jason Minshaw (Maserati Tipo 61 'Birdcage') and Sam Hancock in Stefan Ziegler's Lister-Jaguar Knobbly also breaking three minutes.
Stirling Moss Trophy small-capacity class leaders Martin Stretton/Phil Champion (Lotus 11 Le Mans) and Keith Ahlers/Billy Bellinger (Lola Mk1 Prototype) were eight tenths of a second apart, huddled among the bigger Lotuses and Listers. The Ward/Smith Cooper-Jaguar T33 (car no. 54), best of the Woodcote warriors, gridded ninth, unexpectedly ahead of the Young/Ward Costin-bodied Lister (car no. 60), which sat 11th behind the Lotus 17 of dad-and-lad Gabriel and Dion Kremer.
More than four seconds off Ward's pace, the next three Woodcote Trophy contenders – Carlos Monteverde/Gary Pearson (ex-Border Reivers/Jim Clark Jaguar D-type), Fred Wakeman/Patrick Blakeney-Edwards (Cooper-Jaguar T38) and the class-leading Lotus-Bristol 10 of Malcolm Paul/Rick Bourne – were blanketed by six tenths.
Geraint Owen/Charles Knill-Jones (Kurtis 500S), Martin Melling/Rob Hall (in Peter Collins'/Pat Griffiths' 1952 Goodwood 9 Hours-winning Aston Martin DB3) and the Lister-Bristol 'flat iron' of Stephen Bond/Keith Fell headed the drum-braked classes, as competitors from nine nations populated the charismatic line-up. Among them, former Belgian Prime Minister Guy Verhofstadt (now an MEP) started his first race on home soil in his pretty Elva-Climax Mk3 (car no. 43).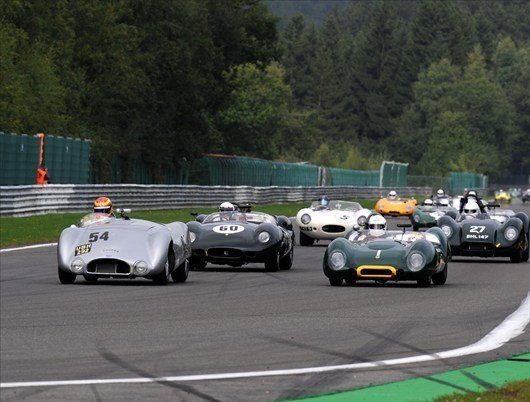 Phil Keen led the early stages of the one-hour race, with Jason Minshaw and Philip Walker disputing second place. Shaun Lynn (Lister-Jag), Ward – flying in the Cooper-Jag streamliner – and Grahame Bryant (taking first stint in the family Lotus) led the chase, although Young's Lister and Dion Kremer's Lotus 17 were on the warpath.
Jason Minshaw's problems began when he made a pitstop and tried to re-enter the track not via the cut-out at La Source hairpin but at the end of the old pit lane, which he believed to be the correct etiquette. "A marshal stood in my path and said 'non', so I had to return via the paddock to the F1 pits and have another go. I was ahead of Jon on track when there was a bang from the back at Eau Rouge," said Jason. Both cars were out, although the Lister limped back to the pits with deranged steering.
Ward, now in the JD Classics Lister, thus assumed the lead which he built over Lynn and Ollie Bryant to the chequered flag. Smith completed Ward and the team's joy by finishing fourth, first of the Woodcote Trophy cars by three places. Ahlers/Bellinger were overjoyed with fifth in the Lola in such company, ahead of Stretton in Champion's aerodynamic Lotus. Martin demoted both Blakeney-Edwards and Pearson on the penultimate lap, after a splendid chase.
The rumbling Lister-Chevrolet of Mark Gibbon/Rob Newall and the Lotus 11 of smiling Belgians Guy Peeters/Michel Wanty completed the top 10 in an entertaining race in which Maserati team mates Gordon McCullough (200Si) and marque specialist Steve Hart (300S) scored a memorable class one-two.
Mark Midgley/Chris Woodgate (Aston Martin DB3) and Mike Thorne/Johnny Todd (Austin-Healey 100M) drove superbly to win Woodcote classes. And Verhofstadt finished 49th, third of the Elvas behind the low-line Mk5s of Ralf Emmerling/Phil Hooper and Louis Verstrassen.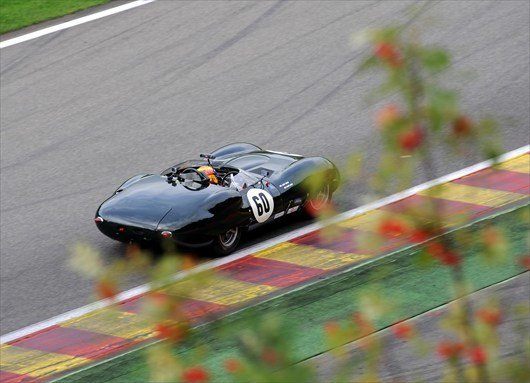 Comments
Author

Keith Adams
Latest