Preview: St James' Concours, London, 5-7 September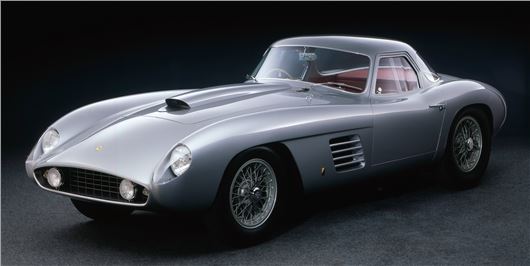 Published 10 June 2013
A stellar line-up of 60 first-rate has been confirmed for the 2013 St James' Concours of Elegance, held on the Royal lawns of St James's, Central London from 5-7 September 2013. With more than 20 cars coming from the UK, 16 from Europe, 13 from the States and the rest from as far afield as Argentina, Mexico and Russia, many of these car have never before been seen in public.
The event aims to raise money for a number of charities working in the field of cancer care, support and research.  The principal partner is Marie Curie Cancer Care, the charity which gives people with terminal illnesses the choice to die at home, surrounded by the people and things they cherish. Last year's event raised in excess of £250,000 for charities.
In just one year, the UK's Concours of Elegance has become one of the most talked about events in the international historic car calendar.  Marlborough House, in London's historic St James's, is a 300-year-old Royal Palace adjacent to St James's Palace and The Mall.
Tickets can be purchased at www.concoursofelegance.co.uk or by calling The Ticket Factory on+44 (0)121 767 5052)
List of Cars as at June 10, 2013 - Correct at time of Publication
1907 Darracq 18HP Double-Phaeton 
1907 Itala 120hp
1914 Rolls-Royce Silver Ghost Torpedo Grande Luxe Vanden Plas 
1922 Hispano-Suiza Boulogne  
1923 Delage Type DH V12      
1924 Aston Martin Side Valve Boat-Tail Tourer    
1924 Newton 200 Mile Race car
1925 Bentley 3 litre 'Team Car'        
1928 Bugatti Type 35B   
1928 Bugatti Type 40 Cabriolet Fiacre 'Lidia'         
1929 Mercedes-Benz Type SS (W06) Cabriolet 
1929 OM 665 SSMM 2.3 litre
1930 Bugatti Type 43A
1930 Bentley Speed Six 'Old Number 3' Vanden Plas Tourer
1930 Bentley Speed-Six 'Sportsman Coupé' Gurney Nutting    
1930 Cadillac V16 2 Passenger Roadster
1930 Stutz SV16 Monte Carlo Weymann             
1931 Alfa Romeo 6C 1750 Gran Sport Aprile Spider Corsa
1931 Bentley 8 litre Drop Head Coupé Park Ward
1932 Bugatti Type 50T Coach Profilée        
1932 Bugatti Type 55 Open Sports Tourer  
1932 Rolls-Royce Phantom II Continental Drophead Coupé Freestone & Webb
1933 Napier-Railton 24 Litre Special
1933 Alfa Romeo 8C 2300 Touring Brianza   
1934 Duesenberg Sedan Limousine
1936 Mercedes-Benz 500K Erdmann & Rossi Streamline Roadster
1936 Bentley 4 1/4 Litre Streamlined Drophead Coupé H.J. Mulliner
1937 Horch 853 Sport Cabriolet Voll & Ruhrbeck 
1938 Jaguar SS Graber Coupé
1938 Lancia Astura 4e Série Cabriolet
1939 Bugatti 57C Cabriolet Voll & Ruhrbeck
1940 Aston Martin Type C Speed Model
1951 Delahaye Type 235 Saoutchik Cabriolet 
1953 Fiat 8V Zagato
1953 Ferrari 340 MM Vignale Spyder
1953 Siata 208 CS Berlinetta Balbo    
1953 Ferrari 166MM Barchetta Oblin
1954 Ferrari 375 MM Scaglietti (picture: Copyright - Boris Adolf, Fotograph)
1955 Bentley Continental Drop Head Coupé Park Ward
1955 Jaguar D-type
1955 Maserati A6G/54 2000 Spider Zagato  
1955/56 Ferrari 250 GT TdF Speciale
1956 Alfa Romeo 1900 Zagato          
1956 Ferrari 500 TR 0638MDTR
1956 Pegaso Z102 B 3.2 Touring Berlinetta 
1958/9 Maserati Tipo 420/M/58 Eldorado Special  
1959 Aston Martin DBR1/4     
1960 Ferrari 250 GTO 64 C
1961 Ferrari 250 GT SWB California Spyder Scaglietti
1964 Jaguar E-type 'Semi-lightweight'      
1964 Ferrari 250 Le Mans Berlinetta Pininfarina    
1966 Jaguar XJ13
1968 Ferrari 275 GTB/4 NART Spyder
1969 Porsche 917 Kurzheck #023
1994 Bugatti EB110 Super Sports
Comments
Author

Keith Adams
Latest