John Surtees stars in Edenbridge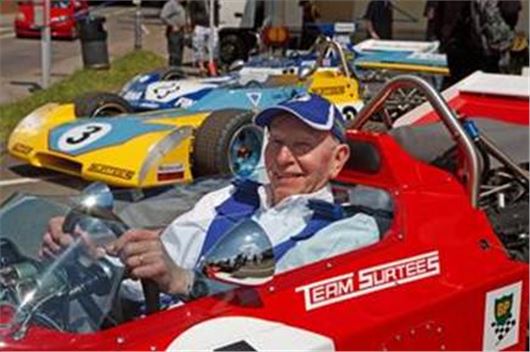 Published 29 May 2013
John Surtees OBE, McLaren test driver Oliver Turvey and ex Formula 3 Champion Robbie Kerr in Surtees drove some significant Formula 1 and 2 cars through the centre of Edenbridge, attracting thousands of spectators and bringing the town to a standstill. 
The event was the Edenbridge Fun Day, which was arranged by the Eden Valley Chamber of Commerce, and the racing cars' appearance was to celebrate the fact they were built in the town. The racing drivers were joined by noted motoring journalist Steve Cropley driving a McLaren Supercar, and John's daughter Edwina driving a Mercedes-Benz Gullwing 300SL, plus two Grand Prix motorcycles from John's past. 
Leading the way was an Aston Martin Course Car driven by David Barzilay. The vehicles roared through Edenbridge High Street on Monday 27 May for two laps. The event in Surtees' home town was as an attraction to the town to showcase what it has to offer.The two motor cavalcades formed part of the Edenbridge Fun Day, which also had an objective of raising awareness of the activities of the Henry Surtees Foundation.
Speaking at the event John Surtees said: 'It's not often people get to see Formula 1 cars up close and it was amazing to have the High Street closed on a busy Bank Holiday weekend so we could give them a blast. It was a great turn out, and everybody looked like they thoroughly enjoyed it, I certainly did. I hope that it helps to put Edenbridge on the map.'
The Team Surtees and John Surtees related vehicles that took part in the parade included:
A TS7 Formula 1 car which John Surtees raced at the British Grand Prix in Brands Hatch in 1970 driven by John Surtees.

The TS15 2-litre Formula 2 car which won the prestigious Interlagos race in Brazil in 1973. Driven by past Formula 3 British Champion and A1 Grand Prix runner-up Robbie Kerr.

The TS14 Formula 1 car which Mike Hailwood drove to second place in the 1972 Italian Grand Prix was displayed statically.
Comments
Author

Keith Adams
Latest