Preview: Bromley Pageant, 9 June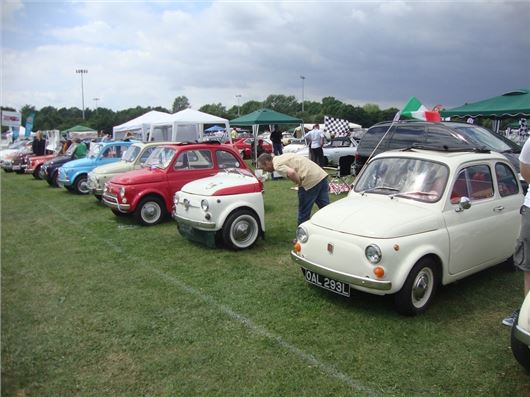 Published 30 April 2013
There's going to be an eclectic mix of cars and clubs at this year's Bromley Pageant on 9 June in Kent - one of the UK's largest classic car gatherings.
Some great clubs have already confirmed their attendance at this year's event. Most notable are the Jaguar XK8/XKR Enthusiasts' Club, who will be showing a range of these modern-era high-performance Jaguar models. There's high-speed motoring from the Jensen Owners' Club, which offers a great reminder of these prestigious grand touring Aston Martin rivals.Representing sports cars from across the Channel the Renault Alpine Owners' Club has a selection of these highly acclaimed French motors, and for the truly rare French classic, you'd better head along to the Simca Club's display.
But if your eyes are only on Japanese cars, you're also in for a treat. Look out for the Toyota MR2 Drivers' Club, MR2 (MkI) Club, MX5 Owners' Club, Suzuki SC100 Enthusiasts' Club and the Mitsubishi Lancer Register. British classics aren't missing out either. Ford is represented by nearly a dozen clubs, including the Anglia 105E Owners' club, Cortina Owners' Club Mk 1-5 and, moving more up-to-date, the Mondeo Owners' Club.
The Rover SD1 Club will have a fine array of these groundbreaking 1970s and '80s hatchback models while Land Rovers, Minis and Wolseleys also take pride of place. Vauxhalls, Triumphs and MGs will also remind visitors of family and performance motoring from the time when petrol prices hadn't yet reached £1 a gallon. Bringing a welcome street and strip flavour to the Pageant is the Dutch House Street and Strip Club, otherwise known as the DHSS Car Club, one of the country's longest-established custom car and hot rod clubs.
And for something completely different the Battery vehicle Society shows just how well established battery-powered cars are. The Society was founded 40 years ago and continues to promote all types of electric vehicles. So whatever your choice of classic cars, this year's Peter James Insurance Bromley Pageant of Motoring will have something for you.
Ticket prices are £11 for Adults when booking in advance or £14 on the gate. Senior Citizens tickets cost £8 in advance and £10 on the gate. Children's tickets are £5 in advance and £6 on the gate. There is also a family ticket on offer for two adults and two children at just £27 when booked in advance and £33 on the gate. Show opens from 9.30am to 5.30pm and parking is free.
To book tickets call the hotline on 0844 854 0064 or book online at www.bromleypageant.co.uk where you can also download booking forms for clubs, cars for sale and one make entries as well as getting the latest updates.
Comments
Author

Keith Adams
Latest