Christmas feature: Hot Wheels at 50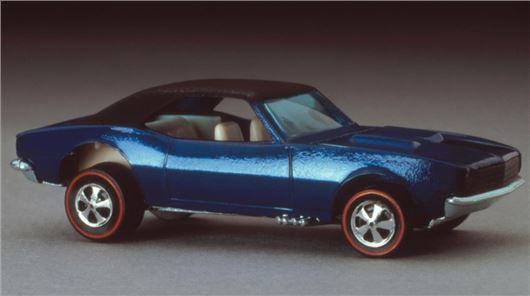 Published 21 December 2018
Who can forget the excitement of unwrapping toy cars on Christmas Day? It was a magical feeling (indeed, it still is…), and even in a world where kids are increasingly turning to computers, tablets and games consoles for their enjoyment, it's reassuring to see that - 50 years since they first appeared - Hot Wheels cars are still the best-selling toys in the world.
As of this year, they're out of this world, too - to mark the 50thanniversary, there's currently a Hot Wheels Tesla Roadster doing the rounds (quite literally) as space debris, alongside Elon Musk's full-size version, after the Electric Vehicle pioneer launched his old company car into space with his Hot Wheels toy on the dashboard. You can only assume that, like today's kids, he'd been watching too much YouTube.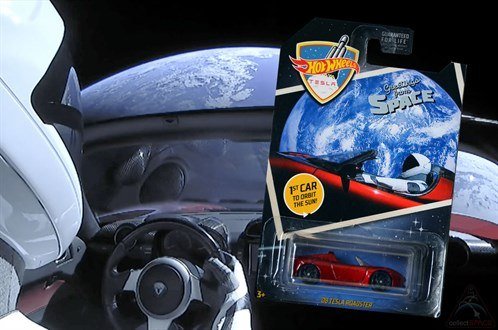 Back in 1968, when Hot Wheels first appeared, man was yet to land on the moon, let alone propel an electric car into orbit. Indeed, the very notion of an electric car was laughable - the Hot Wheels brand itself was a child of the muscle car era, where America's car makers lived by the mantra 'there ain't no substitute for cubic inches'. The initial 16 models replicated some of the USA's finest muscular motors, with the '67 Chevrolet Camaro enjoying the honour of being the first ever car to wear the famous red-banded plastic tyres.
But why, 50 years on, is Hot Wheels such a globally popular brand, and what is it that keeps the passion going?
To find out, let's go back to the beginning. The very roots of Hot Wheels were laid by a successful couple in El Segundo, California. Elliot and Ruth Handler were the joint managing directors of Mattel, a wooden toy maker co-founded by Elliot in 1945. In 1959, the Handlers saw their first major success with the launch of the Barbie doll, named after their daughter, Barbara (incidentally, Barbie's boyfriend, Ken, was named after the Handlers' son, Kenneth). Barbara Handler, now aged 71, is not only the original Barbie, but also one of America's wealthiest women, as the sole surviving heir to the Handler family fortune, after Kenneth's untimely death in 2004.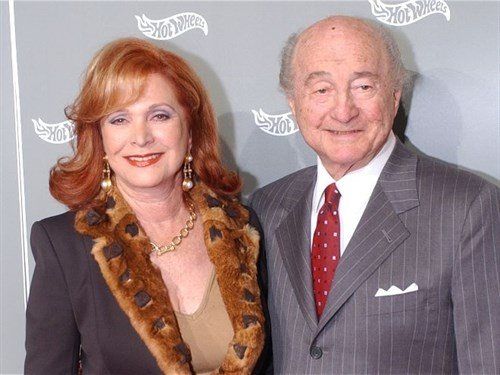 Barbie enjoyed huge and instant success, which left Elliot feeling - by his own admission - a little bit jealous. After running a toy company for 20 years, it was his wife's idea that finally took them to the big time. But surely Barbie's success with America's girls could be replicated with a range of toys aimed at boys.
The answer was rocket science, quite literally. After looking at the diecast model cars already on sale, from the likes of Matchbox, Dinky and Corgi, along with US brands like Tootsie and Budgie, Elliot Handler decided to consult with Jack Ryan, Mattel's head of research and development, to see if there was anything they could create that would be unique. 
Ryan, a former rocket scientist on the Apollo Missions, had a background as a physicist and aerodynamicist. His answer was simple - the wheels. If Mattel could create toy cars with low-friction wheels, they would be smoother, faster and more fun for boys to play with than their rivals. Working with Mattel's chief designer, Harry Bentley-Bradley, they returned to Handler's desk with a concept toy car chassis, with free-rolling plastic wheels, suspension and chrome printed hubs with red bands, similar to the tyre designs popular in California's hot rod and surf scene in the late 1960s.
"Man, those are hot wheels…!" exclaimed Handler, and the name stuck.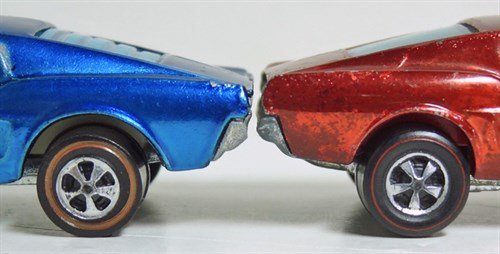 The next question was what would people buy. Would it be scale replicas of the cars that boys identified with and aspired to own when they grew up, or wilder creations that weren't based on real cars at all, but were all the more adventurous for it? The answer was both - of the initial 'Sweet 16' Hot Wheels cars launched, eight were based on production cars, four on hot rods and four on cars that were completely made up. It's a tradition that has continued through Hot Wheels' history, meaning that even today you can buy a production Honda Civic, or should you prefer, a V8-engined Alligator, complete with teeth. After all, why stand in the way of a child's imagination?
Speaking at a Hot Wheels convention in 2004, Handler himself summed it up: "We wanted to create a world of dreams and imagination - dreams that will be transformed into a form of reality, through creative minds and hands."
The first Hot Wheels car off the line was a metallic blue 'Custom Camaro', which Chevrolet itself played tribute to ahead of Hot Wheels' 45thanniversary in 2013, taking a road-going Camaro out of the factory, painting it metal-flake blue and fitting red banded tyres and Hot Wheels logos. It was the most photographed car at the Detroit Auto Show that year, even more so than Chevrolet's own brand-new Corvette C7. Hot Wheels even made a model of it - a replica of a car that was a replica of a replica, so to speak.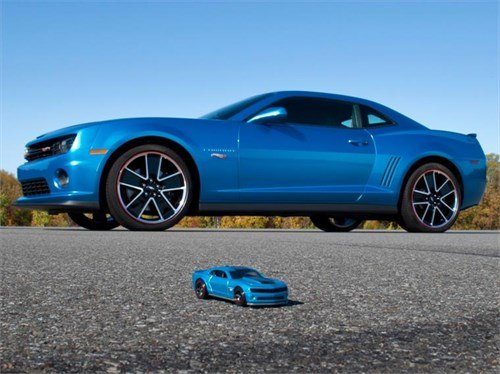 And that shows just how deeply passions have run for Hot Wheels over five decades and over four billion sales. The brand is a household name in over 200 nations, and the market-leading die cast toy in the USA, UK, Europe, China, Australia and, thanks to Elon Musk, outer space. The difference being that, while boys below the age of 14 still make up a large percentage of Hot Wheels' customers across the world, around a quarter of Hot Wheels toys these days are bought by collectors. There are even special 'Treasure Hunt' cars buried in distribution boxes, such is the thirst for collecting them among grown men and women. Others, such as the recent Mk1 Ford Escort, have become collectable due to being such faithful replicas of the original subject - suddenly, the supply isn't there to meet the demand, and internet auctions are on fire with bids to get the latest and greatest Hot Wheels toy. 
After all, collecting toy cars is part of the rock and roll life. No, really - Gene Simmons from Kiss, Frank Beard from ZZ Top, Eric Bloom from Blue Oyster Cult and the boss himself, Bruce Springsteen, are all avid Hot Wheels collectors. So if, like me, you've got more Hot Wheels than you dare admit in public, you're in some pretty cool company.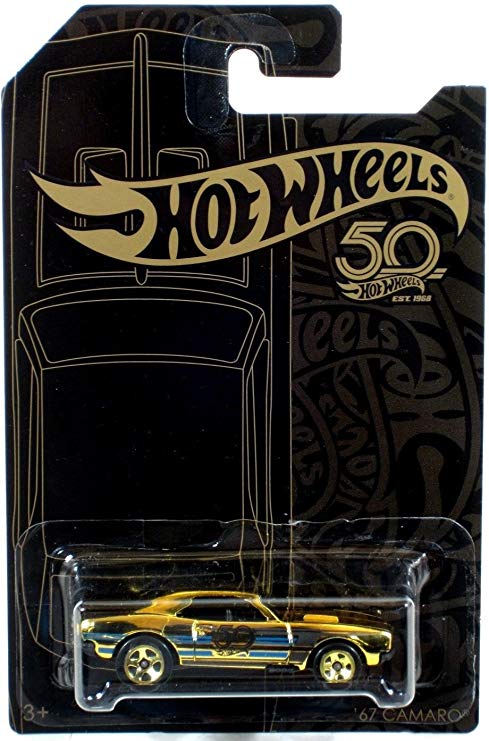 Finally, a tip for investors of the future - to mark the golden anniversary, Mattel has launched a 50thanniversary Camaro based on the original casting, and it's already sold out…
Comments
Author

Craig Cheetham
Latest