Future Classic Friday: Audi A8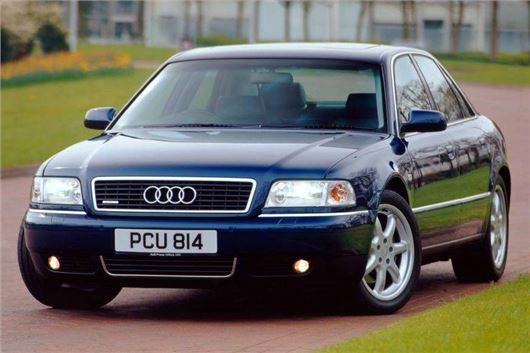 Published 20 April 2018
The Audi A8 can trace its roots back a lot further than you might expect, with former Volkswagen Group boss Ferdinand Piëch first signing an agreement to develop the car back in 1982.
The contract was with the US company ALCOA – or the Aluminium Company of America – and the idea behind it was to create a full-size car that would be significantly lighter than any other vehicle in its class, thanks to the use of advanced aluminium construction.
But it would be a further 11 years before the vehicle was fully developed. Introduced in 1994, the Audi A8 was the replacement for the outwardly similar Audi V8, but rather than standard monocoque construction it was built by adhering the outer panels to an aluminium space frame.
It was revealed at the 1993 Frankfurt Motor Show as the eye-catching Audi Spaceframe Concept, which was finished in bare polished aluminium to show off its advanced construction.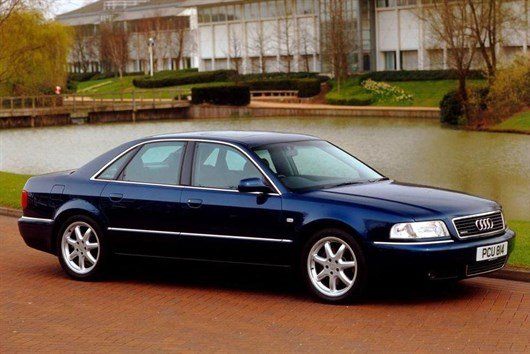 The spaceframe, or ASF in Audi parlance, would go on to become the foundation for Audi's new executive car, which was first seen in production form at the 1994 Geneva Motor Show.
Powered by a 2.8-litre V6 with front-wheel-drive or a 4.2-litre V8 with quattro all-wheel-drive, the A8 was one of the most advanced cars of its time and was available in both short and long-wheelbase formats, with the V8 models costing significantly more than the V6s.
Both were fine cars to drive – the V6 offering fleet friendly comfort and efficiency, while the V8 appealed much more to the owner driver, who wanted his or her car to be as much a technical tour de force as it was a form of transport.
In 1996, Audi upped the game further with the launch of the high performance S8, with 335bhp from its turbocharged V8 engine. Admittedly, that sounds fairly modest in a modern context, but back in the day it was more than a match for Mercedes-Benz's AMG models, and gave the A8 a rather distinctive USP.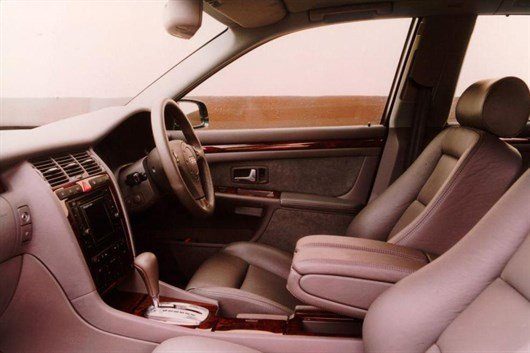 As well as the power upgrade, the S8 featured distinctive 'S' sports seats and 18-inch alloys, along with polished exhaust pipes and alloy mirror caps.
Needless to say, the S8 was a sensational car to drive, but then the standard A8 was, too. Then there was the 2000-on W12, a piece of Audi showboating to create the world's first production W-configuration engine, the 6.0-litre unit being effectively one-and-a-half V8s. It's a rare anomaly and is largely pointless, other than for its engineering excellence.
Today, any A8 is a lovely old thing to own, while the aluminium spaceframe means they're not prone to the horrendous corrosion problems of most older large cars.
Be wary, though, of cam chain rattle from V8s and problems with air suspension on cars that are so equipped.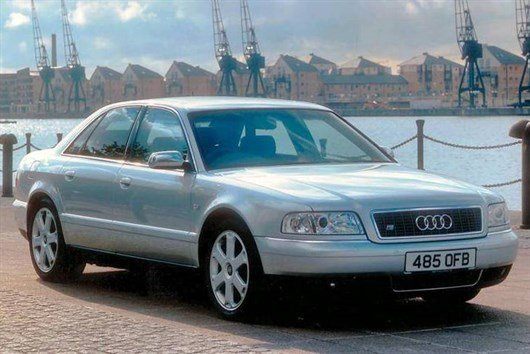 Otherwise, the A8 is a largely reliable old bus, though maintenance is key to ensure they don't feel baggy – a thrashed S8 will disappoint, as despite the relative light weight, the suspension components still have a long body and a thumping V8 to support, so hard use does take its toll.
If you want a car that looks a million dollars but doesn't cost it, though, the A8 is well worth a look. You can get a serviceable 2.8 for less than a grand, and that's a sensational car for the money. Spend around £3k, and you can get behind the wheel of a cherished and well-presented 4.2 V8. It won't be cheap to run, but it'll be worth every penny.
Comments
Author

Craig Cheetham
Latest