Audi A8 (1994 - 2003)
Last updated 26 January 2016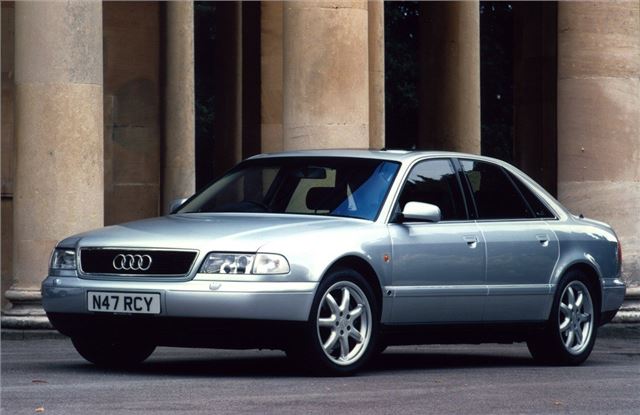 Roomy, safe and luxurious. The 4.2 V8 model is rapid. All versions are bursting with quality.
Lightweight body is prone to dents and expensive to repair. Ride quality isn't the most cosseting.
Introduction
It might just look like another boring executive car, but the Audi A8 was one of the first cars to be boast an aluminium chassis. This advanced all-alloy construction was called the Audi Space Frame - or ASF for short.
Launched in 1994 at the Geneva motor show, the A8 was originally conceived as a replacement for the ageing V8 flagship and was planned as a full-time four-wheel drive car from the beginning.
Engines available included a 300bhp 4.2-litre V8, which made for a quick, safe, luxurious car. Lesser versions were the front-wheel drive 174bhp 2.8-litre V6 and 230bhp 3.7-litre V8. The 2.8-litre introduced 30-valve and got a power hike from 174bhp to 193bhp in 1996.
To rival the Mercedes AMG line, Audi created the S8. Powered by a the 4.2-litre V8 engine, it boasted 360bhp and four-wheel drive.A
In 2000, Audi unveiled a different kind of monster at the Paris motor show - a 420bhp version fitted with the 6.0-litre W12-engined version.
Next: Buying Guide