Future Classic Friday: Audi S4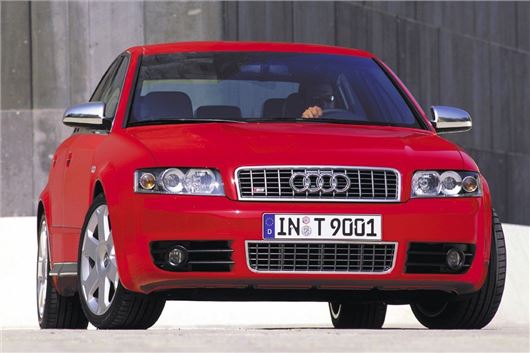 Published 23 February 2018
In some walks of life, subtlety is important – yet rarely in performance car terms. The 2003-06 Audi S4, then, is something of an anomaly. Apart from brushed aluminium door mirrors, 18-inch alloys (or optional 19s) and some discreet badges, the car looks pretty much like a standard A4.
That's not such a bad thing, as the B6 generation of A4, as it's known by the cognoscenti, is a handsome car, whether you prefer it as a four-door saloon or sleek Avant estate body style. Yet there's little to give away the fact that, under the bonnet, there's a thundering great V8.
The normally-aspirated 4.2-litre unit replaced the turbocharge 2.7-litre six in previous generations of S4, and while the performance figures were broadly similar, the soundtrack and power delivery were completely different.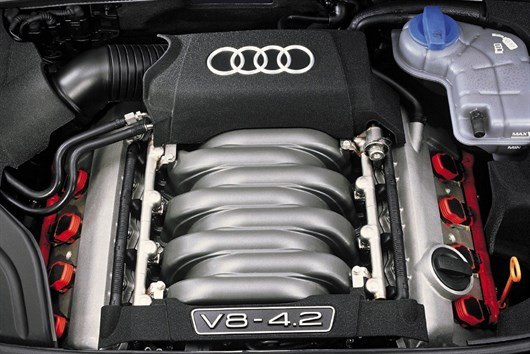 Whereas the previous generation car was fast and frantic, with a luscious induction noise when fully wound-up, the V8 was a much more civilised car to drive in an urban environment (overly-firm suspension not withstanding). Yet set it free on an open road, and the big V8 would open its jaws, emitting a raucous growl and a linear yet voracious power delivery. It's a car of immense character, but hidden beneath a discreet and smart exterior.
But there's more to the S4 than its engine. Although the 40-valve 339bhp unit is the car's defining feature, it also got uprated Continental brake callipers, speed-sensitive Servotronic power steering and standard quattro four-wheel-drive.
A Getrag six-speed manual gearbox was standard equipment, but the S4 was also offered with a sports automatic transmission, supplied by ZF, with 'Tiptronic' flappy-paddles on the steering wheel to allow manual changes.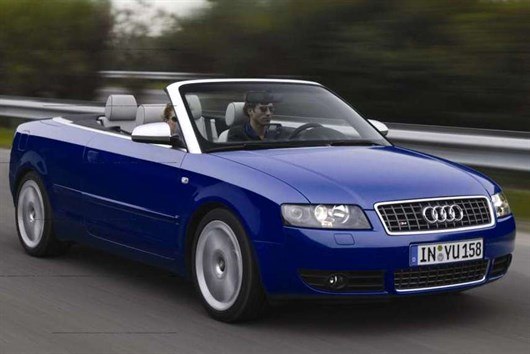 A Cabriolet model appeared in 2004, and although it lost some of the tin-topped car's torsional rigidity, it was still reassuring and brutal to drive, while dropping the roof allowed you to sample its aural delights yet further.
With standard manual transmission, the S4 could despatch 0-60mph in five seconds flat – enough to keep up with most contemporary sports cars – while it also had incredible grip thanks to the quattro system and an electronic differential lock, which ensured maximum traction even in slippery conditions.
As super execs go, it's a great package, although the downsides are monumental fuel consumption if you drive it hard, along with £290 a year road tax – though this is preferable to the £560 a year you'd pay to tax a 2006-on version of its successor, the identically powered B7.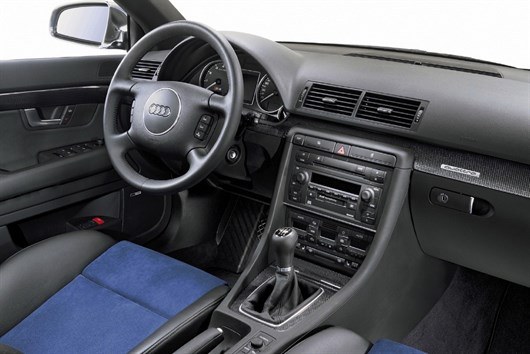 When new, the S4 wasn't cheap - £40k for the saloon or £1500 more for the Avant. Today, though, it's a veritable bargain, with the cheapest examples on offer from as little as £3500. That's a piffling amount for a car with such performance, style and driver appeal, not to mention its inherent practicality, thanks to its mainstream underpinnings.
Of course, the cheaper cars won't be the best, so listen for cam chain rattle, especially when cold, and be wary of anything with little or no service history – despite being a standard A4 in many respects, the S4 does require specialist maintenance. If you can push your budget out to £5k, there are quite a few examples around with less than 100,000 on the clock, low owner numbers and decent history.
Given that the earlier cars are already on an upwards trajectory in terms of prices, though, we can't see good S4s getting much cheaper, and they've always been quite rare cars, so there really has never been a better time to buy.
A performance car bargain, and a bona fide future classic, the S4 is a wonderful machine and terrific value for money.
Comments
Author

Craig Cheetham
Latest
Compare classic car insurance quotes and buy online. A friendly service offering access to a range of policies and benefits.

Get a quote