Land Rover celebrates 48 years of the Range Rover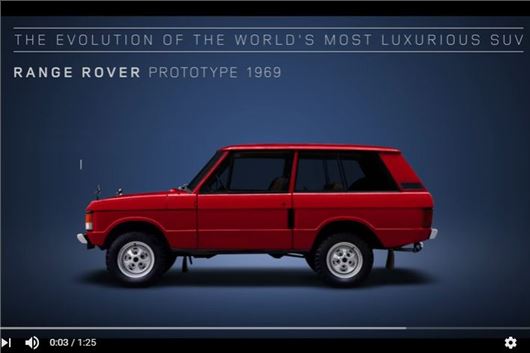 Published 18 January 2017
Land Rover has released a short video to celebrate 48 years of the Range Rover. Despite shifting 1.7 million units, the iconic model has featured some equally iconic design features, like the 'floating' roof, clamshell bonnet, and split-tailgate.
The Range Rover story began with the 26 pre-production models, which wore Velar badges in an effort to hide its identity – velare means to 'veil' or 'cover' in Italian – made up of letters from the 'Alvis' and 'Rover' badges that usually adorn the front and rear of a vehicle.
Next comes the Range Rover Classic two-door as the images showcase successive generations. Gerry McGovern, Land Rover chief design officer, said, 'There's simply nothing else like it.' When it was first launched in 1970, Range Rover was one of the first vehicles to deliver permanent all-wheel drive while many others were still selectable.
In 1971 the original model was cited as 'an exemplary work of industrial design' when it became the first vehicle to be displayed at the world-famous Louvre museum in Paris and it has been at the forefront of design and engineering innovation ever since.
Comments
Author

Keith Moody
Latest