A Grand Monday: Mercedes-Benz C180
Published 15 August 2016
There's something admirable about an old Mercedes. But while the likes of the W124 and latterly W201 (or 190E) have enjoyed a strong following for many years, the German firm's 1990s models don't quite have the same shine from their three-pointed stars.
Why? Well, whereas the old-school Benzes were the absolute byword for longevity, renowned for being over-engineered and having the best build quality of any car in the world, their successors had been more closely inspected by the Stuttgart bean counters, whose desire to save money overruled the desire of those who wanted to make them the best they could be.
As a result, they were nowhere near as durable nor as rust-resilient as their forebears, yet on the flipside were far more dynamic to drive. Indeed, the 1993-1999 C-Class W202 was the most agile mid-size Mercedes ever, winning quite a bit of praise early in its life for giving the model a much more European, lightweight feel.
The lightweight sensation, though, could largely have been down to the fact that the C-Class was made out of rubbish metal, a fact borne out by its attrition rate – there are currently three times as many 1993 190Es on the road as there are 1993 C-Classes, despite the C-Class having been on sale for more than half the year.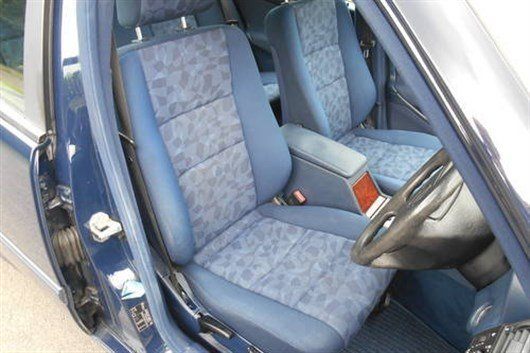 That said, there was the odd C-Class that, for no obvious reason, didn't succumb to the rampant corrosion of its brethren, and every so often there's a survivor that pops up, apparently free of the ravages of terminal rust. This 1997 Mercedes C180 is one such car, and while the incorrect wheels, lowered suspension and doom blue paint scheme, not to mention the miserly C180 'Classic' trim level, might not be to everyone's tastes, it is a tidy looking Mercedes with a decent amount of MoT, full service history and well-presented interior.
Worth a look? Definitely. But check the body carefully for corrosion, and accept it more as a classy old banger than a cherished classic, for now at least… One day, its time may come, as the W202 was perhaps the last Mercedes to have that proper old Benz feel. The one that comes with a slab of wood on its chunky plastic dashboard, thick, scratchy but unwearable seats and floor mats that look like library carpet tiles. There's a distinct appeal to that, but you need to be a proper Mercedes-head to fully understand it…
Comments
Author

Craig Cheetham
Latest