Classic advert: Subaru 360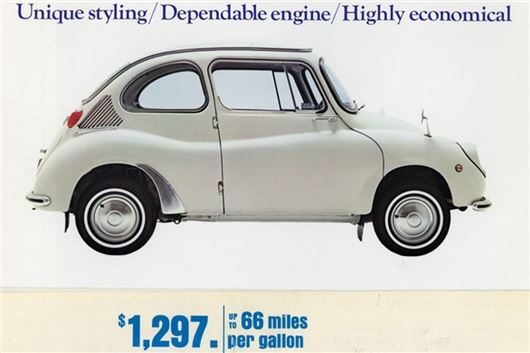 Published 06 July 2015
Long before Subaru was famous for its all-wheel drive estates and rally-winning performance cars, it sold a tiddler going by the name of 360. The Subaru 360 was a tiny two-door saloon powered (we use the term loosely) by a rear-mounted 356cc two-cylinder engine. And it did well for itself, with almost 400,000 produced between its launch in 1958 and its demise thirteen years later.
The 360 worked well on the crowded streets of Tokyo, but surely it would be ridiculed in the USA, where the V8 engine ruled? Well, yes. But that didn't stop entrepreneur Malcom Bricklin from doing a deal with Fuji Heavy Industries (the owner of Subaru), enabling him to import the 360 to the USA from 1968. And during its relatively short career there, no fewer than 10,000 Subaru 360s managed to find American buyers.
Bricklin knew that the 360 would be laughed at in some quarters, hence these four self-deprecating adverts admitting that the Subaru was small and ugly – but boasting that it was cheap to buy, cheap to run and brilliantly economical.
Various young ladies were shown enjoying their 360s in the ads, and their verdict was always the same: 'The little Soo-bar-ru … wow!'
Comments
Author

Paul Guinness
Latest