Classic Advert: Rover 200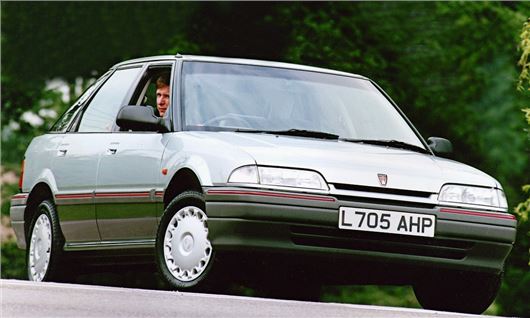 Published 13 April 2015
Taking its inspiration from the wedding scene in Dustin Hoffman's classic movie The Graduate was this TV ad for the new R8-series Rover 200 of 1989. And setting the perfect musical backdrop was Up Where We Belong by Joe Cocker and Jennifer Warnes. Ah, how romantic…
Hero of the ad is, of course, our Rover 200 driver, proudly wearing those high-waisted trousers of the late 1980s. He grabs his car keys, dashes outside to his sparkling new G-reg 216 GSi and heads for the open road. Meanwhile, his lover enters the church where she's about to marry somebody else.
Will our intrepid Rover driver get there in time to stop the wedding and head off into the proverbial sunset with the love of his life? Of course he will! And it takes only a pleading look from him to persuade our heroine to ditch her husband-to-be and run outside to the Rover.
As the happy couple drive off to their future lives together, a list of Rover 200 attributes suddenly appears on screen, boasting about the newcomer's aluminium engines, 16-valve technology, multi-link independent suspension and more. All that from just £8775. 
Comments
Author

Keith Moody
Latest