Help create a new resource for classic car buyers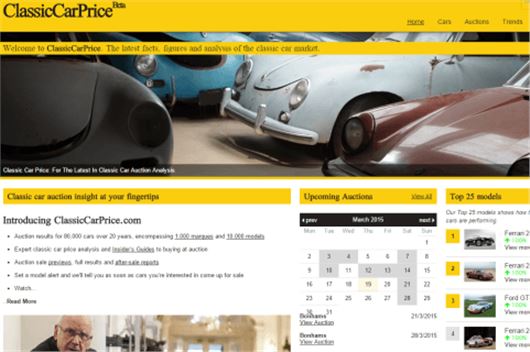 Published 19 March 2015
A website that allows enthusiasts to search and analyse more than 80,000 classic car auction sale prices is set to go live – and it needs your help.
With latest sale prices uploaded as they happen and data stretching back over the past 20 years, the site – ClassicCarPrice.com – promises to be an invaluable resource for potential purchasers,
It means that if you're in the market for a classic, you can choose the make and model that you're after and see historic price data – making sure you pay the right price, for the right car.
If you know your classics, you can be part of the team that tests the site - putting its features through their paces and highlighting any anomalies or bugs.
Claire Evans, ClassicCarPrice.com editor, says she needs you to help make sure ClassicCarPrice.com is as good as it can be before it officially goes live at the end of April.
'With such a massive database of sales, there may still be some anomalies,' said Claire. For example, the same model could be named in different ways, which will prevent all the relevant records being displayed when the model is searched for.
'To enable us to create the best possible website, we are inviting enthusiasts to sign up to the development site, look around and give us their feedback.
'In return, you will get 30-days' free access to the website, which will become a paid-for subscription-based site when it goes live. We will do our best to fix any inconsistences or errors you tell us about as quickly as possible.'
You'll also be able to give your feedback on the site's two unique 'watch' features. The first enables users to watch specific car models and receive an email alert whenever one comes up for auction. The second lets you watch an auction house and receive an alert when a new sale lot is added. 
Claire added, 'We really appreciate your assistance in improving our website, which we hope will become a valuable resource for anyone interested in classic cars. We welcome all feedback – good and bad – and will use it to make the site better for classic car enthusiasts and experts.'
To get involved and help develop the site, visit ClassicCarPrice.com and sign up for your free trial now.
Comments
Author

Keith Moody
Latest