Classic Advert: Vauxhall Cavalier MkIII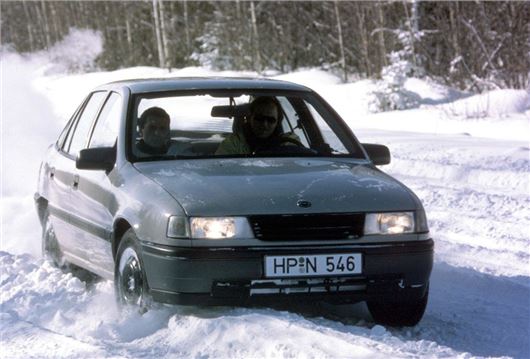 Published 15 January 2015
It's October 1988 and Vauxhall has just released its latest Cavalier, a model range now in its third generation. The newcomer is certainly a step forward from the angular look of the 1981-on MkII, and more in tune with styling trends of the late '80s; but how can Vauxhall's marketing folk portray it as a major advance?
The answer lies in this TV ad, showing a pastiche of a '60s programme inviting viewers to 'Step in to the future'. The spoof show portrays what the car of the future might be like: 'A car that will think for itself,' explains the suitably vintage looking presenter. 'It will have a brain that will tune the engine hundreds of times a second,' he continues, as the film cuts away to images of the latest Cavalier speeding past the camera.
The presenter also predicts the use of 'electronically controlled non-locking brakes' on future vehicles. The downside though, is that 'such technology won't be available to you, the average motorist, until around the year 2000'. Happily for Vauxhall fans, such technology was actually available twelve years earlier than that.
Watching the made-up TV show is a fascinated young boy wearing '60s looking spectacles, the twist to the tale being him as an adult shown as the proud driver of the latest Cavalier – albeit now wearing the big-framed glasses so popular in the late-1980s.
As TV car ads go, we reckon this is one of the greats of the last thirty years. Let us know what you think - email: keith.moody@honestjohn.co.uk
Comments
Author

Paul Guinness
Latest