A Grand Monday: Peugeot 403 pick-up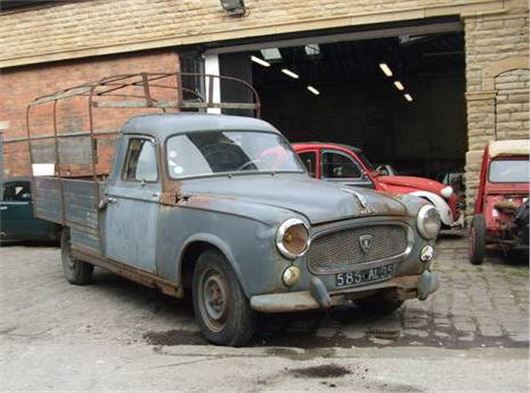 Published 10 November 2014
Rural France is something of a treasure trove when it comes to barn-found examples of iconic car-based commercials. That's the theory anyway; and the recent arrival in the UK of this rather charming looking Peugeot 403 pick-up does nothing to dispel it.
This Pug is obviously in need of total restoration – but wouldn't it be great to simply make it roadworthy whilst keeping the bodywork with as much of its as-found look as possible?
You'll obviously have your work cut out transforming this particular example of one of Peugeot's finest trucks into something legally usable in the UK. The vendor describes it as 'barn fresh', which no doubt means it's been standing for many years. And yet it has its good points, including a pick-up back end that looks to be in surprisingly solid condition. Oh, and the original owner's handbook is still in the glove compartment – so that's okay then.
This rare old truck appears to be pretty complete and apparently rolls freely, although that inevitably means it's currently a non-runner. So if you've a penchant for French commercials and you fancy taking on a fresh project for the winter months, this handsome old pick-up might just be a good place to start – especially with its realistic asking price of £995. Any takers?
Comments
Latest