A Grand Monday: Rover 600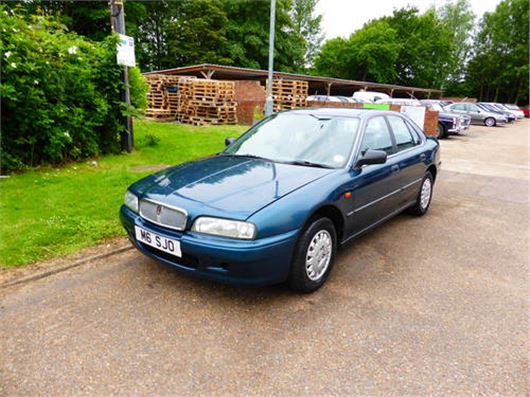 Published 11 August 2014
We've a soft spot for the Rover 600 here at Honest John Classics, particularly as the model continues to offer superb value for money on today's modern-classic market. This example looks to be no exception, with an asking price of just £695 – which seems a perfectly sensible sum for a 1995 Rover 620Si.
The 1993-99 Rover 600 came about via the British car maker's famous collaborative deal with Honda, following in the footsteps of the 200, 400 and 800 before it. The 600 was intended to bridge the gap between the 400 and the 800 flagship, and so basing it around the next-generation Honda Accord seemed ideal for both companies involved.
There was no confusing the Accord and 600, however, for the Rover ended up being completely reskinned in order to give it its own identity. The end result mixed traditional Rover design cues with a pleasing modernity, whilst inside there was Rover's obligatory wood-veneer trim and smart detailing.
Engines were a mix of Honda and Rover, with the 618, most 620s and the 623 all using Japanese powerplants, whilst diesel-engined 600s and the high-performance turbocharged 620ti made use of Rover power. This ensured that most 600s were robust and reliable machines, capable of high mileages with ease. This particular car has clocked up 132,000 miles so far, and is described by its Rover-specialising vendor as driving superbly.
We admit that the 620Si isn't the most sought after of Rover 600 specifications; and we can see from the photographs in the link that this example isn't cosmetically perfect, with a slight ding in the bootlid and no doubt some minor tidying required if you're fussy about aesthetics. But with a new MoT being issued on purchase, it's surely a great way of gaining hassle-free Rover motoring for well under a grand.
Comments
Author

Paul Guinness
Latest