Review: Rush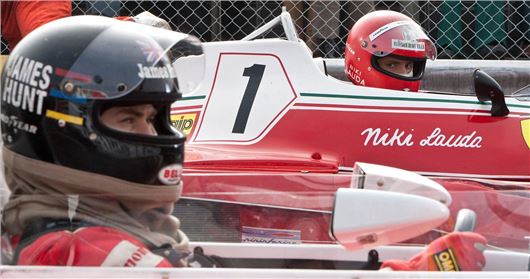 Published 04 September 2013
Car racing films aren't exactly popular. The last well-known example was Days of Thunder back in the 1990s and it was hardly a profound piece of movie-making, so it might be fair to go into Rush, directed by Ron Howard, with a sense of trepidation. Thankfully, though, it's a an enjoyable film which evokes the 1970s well and manages to be at once both spectacular and moving.
The story follows the rivalry between Formula 1 drivers James Hunt and Niki Lauda through the 1976 season, telling the story of two very different people with very different approaches to the same goal. The actors portray the characters very well indeed, right down to the way they look. Mclaren driver Hunt, played by Chris Hemsworth, is a playboy, a smoker and a drinker who is well aware of the risks of high octane racing and is very willing to take them, while Ferrari driver Lauda (Daniel Brühl) is calculated and methodical about everything he does, from setting up his cars to racing on track.
The race sequences themselves are spectacular and visceral, though they fall into the trap so typical of Hollywood driving movies, showing the drivers operating their cars so aggressively they'd likely damage them. Nonetheless the action is convincing, sounds glorious and is, at times, very graphic – the damage that can be done to drivers in such high speed incidents isn't sugar coated. Niki Lauda's infamous accident at the Nurburgring is recreated in uncomfortably graphic detail, as is his recovery from severe burns.
But while on the surface this is a film about motor racing, it's much more about the relationship and rivalry between Lauda and Hunt. It's not necessarily 100% accurate, but it's compelling and often moving to watch and gives inkling into what it might have been like to live the life of a Formula 1 driver back in the 1970s. The era is recreated beautifully, from the fashion and the cars right down to a subtle filter that gives the impression of a 1970s television broadcast, albeit one in high definition - the only thing that lets it down a little is a forgettable soundtrack.
True F1 aficionados who know the very ins and outs of the era, the cars, the drivers and the races might spend their time at the cinema splitting hairs and finding fault, but for everyone else, whether a fan of racing or just a curious cinema-goer, there's a lot to like here. That's good news – you can bury your doubts about Rush being a mindless flick about loud cars. There are plenty of roaring engines, sure, but there's a lot more to it than that. The trailer is embedded below.  
Comments
Author

John Slavin
Latest