Rare 1937 Rolls Royce Phantom III Barn Find in Classic Car Auction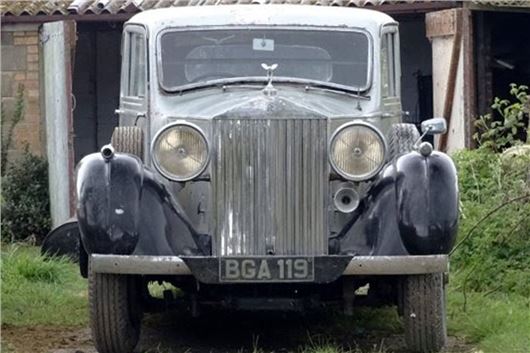 Published 14 May 2019
H&H Classic Car Auctions proudly presents this rare 1937 Rolls Royce Phantom III Sports Saloon in its 19th June Auction at The Imperial War Museum, Duxford.
Complete with retractable glass division and two folding occasional rear seats this James Young bodied 1937 Rolls-Royce Phantom III Sports Saloon has a retractable glass division and twin folding occasional seats.
Only 727 Phantom IIIs are thought to have been built over three years from 1936 to 1939.
The fabulous design boasted cruciform-braced chassis featured independent coil-sprung front suspension, a fully floating 'live' rear axle, hydraulic shock absorbers and gearbox driven servo-assisted four-wheel drum brakes. Based on decades of aero-engine manufacture, its 7,340cc ohv V12 was fabricated largely from aluminium alloy boasted a seven-bearing crankshaft, eight-bearing camshaft, hydraulic tappets and dual downdraught Stromberg carburettors. Effortlessly potent and eerily smooth, it gave most variants a 100mph top speed.
This Phantom III Sports Saloon has been in the current ownership since 1996 when much good restoration work was carried out by the owner, including replacement of sections of the ash framework. It then 'rested' for 23 years in a barn, but now this grand machine is ready for its next owner to continue the restoration process.
The car features twin side-mounted spare wheels and boasts its original engine and appears to be complete with all ancillaries including Lucas P100R Lamps, fitted heater, sun visors, centre blinds, companion mirrors and comes with a selection of parts to be fitted.
It is estimated at £45,000 to £55,000.
More at H&H Duxford

(https://online.handh.co.uk/m/view-auctions/catalog/id/116/)
Comments
Author

Honest John
Latest