E-types are top sellers at British Heritage auction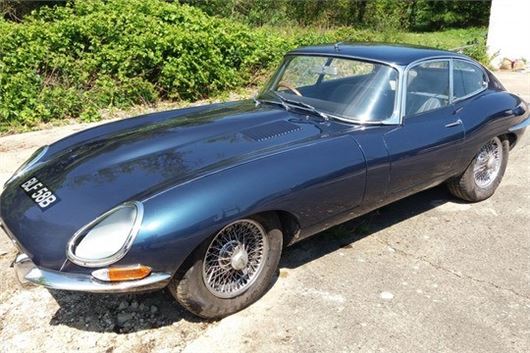 Published 19 June 2018
Two Jaguar E-types were the top sellers at recent auction of classic and sports cars in June. Both Series 1s went under the hammer at Barons British Heritage Sale on 5 June and went for combined total of £185,820.
A 1964 4.2 FHC sold for £86,820, while a matching-numbers and refreshed 3.8 roadster was top of the lots fetching £99,000. Despite the 15-year-old renovation, the car presented well and came with its original numberplate.
Third place went to a Maserati Merak (£71k), which was once owned by musician Andy Leek of Dexys Midnight Runners. A Rolls-Royce 20/25 (£31k) and a fully-restored MGA £27,500) rounded out the top five.
Tim Gascoigne, auction manager, said, 'We had some stunning cars on offer, and the buyers obviously agreed. The Maserati Merak really stood out, as did the two Series 1 E-types, and it was really pleasing to sell all three.'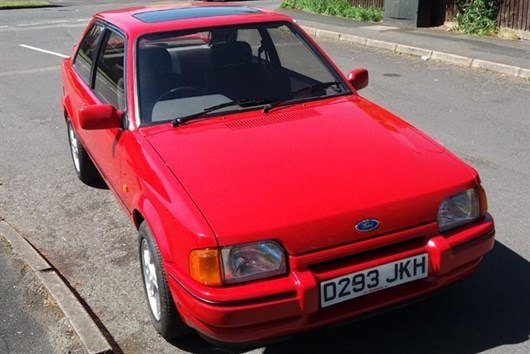 Modern classics offered included a low-mileage 1986 Ford Escort XR3i, which sold for £12,100. Also going under the hammer was a Ford Capri Brooklands and a Porsche 944 S2 Cabriolet – neither of which sold. Although a Porsche 928 GT did go for £21,900.
In total, 65% of the 65 cars on offer had found new homes with plenty of modern classic bargains to be had. A 1997 BMW Z3 1.9-litre made £1100 – although it was a four-pot with eight owners and limited service history. And tidy but useable Mk3 Volkswagen Golf Cabriolet made £350 – a perfect summer bargain. As was the 1998 Ford Scorpio 24v Cosworth – fully loaded but with tired paint, it will make someone an excellent everyday hack, if they can afford the fuel.
Auction Results: Barons, Sandown Park, 7 June 2018
| | | | |
| --- | --- | --- | --- |
| Year | Make | Model | Sold @ inc |
| 1962 | Jaguar | E-type 3.8 S1 Roadster | £99,000 |
| 1964 | Jaguar | E-type 4.2 FHC | £86,820 |
| 1975 | Maserati | Merak | £71,000 |
| 1934 | Rolls-Royce | 20/25 | £31,350 |
| 1957 | MG | A | £27,500 |
| 1987 | Mercedes | 220SE Coupe | £27,280 |
| 1953 | MG | TF | £23,100 |
| 1991 | Porsche | 928 GT | £20,900 |
| 1953 | MG | TD | £16,500 |
| 2002 | Aston Martin | DB7 Vantage Volante | £15,180 |
| 1976 | Triumph | Stag | £13,200 |
| 2007 | Jaguar | XK Convertible | £12,210 |
| 1986 | Ford | XR3i | £12,100 |
| 1969 | Daimler | V8 250 Saloon | £12,100 |
| 1952 | Ford | M38 CDN | £9900 |
| 2004 | Maserati | 4200 Coupe | £9240 |
| 1996 | Lotus | Elise | £8580 |
| 1957 | Morris | Minor | £8250 |
| 1932 | Austin | Seven | £7480 |
| 2005 | Porsche | Cayenne Tiptronic S | £7260 |
| 2004 | Mercedes | CL55 AMG Kompressor | £6490 |
| 1974 | Jaguar | XJ6 4.2 Series 2 | £6050 |
| 2008 | Mercedes | SLK 200 | £5170 |
| 1968 | Morris | Minor Panda Police Car | £4400 |
| 1989 | Rolls-Royce | Silver Spirit | £4000 |
| 1996 | Mercedes | SL320 | £3960 |
| 2003 | Mercedes | CL500 | £3410 |
| 1976 | Jaguar | XJ6 4.2 Series 2 | £3300 |
| 2001 | Mercedes | S55 AMG | £3080 |
| 1978 | MG | B Roadster | £2915 |
| 2001 | Jaguar | XJ8 Sport | £2750 |
| 2000 | Mercedes | 500CL | £2750 |
| 2002 | Mercedes | CL500 | £2750 |
| 2001 | Mercedes | SLK 230 | £2585 |
| 2005 | Toyota | Celica 1.8 VVTi | £2365 |
| 1998 | Daimler | Sovereign | £1760 |
| 1997 | BMW | Z3 | £1100 |
| 2002 | Peugeot | 206 GTi | £800 |
| 1997 | Volkswagen | Golf Cabriolet | £350 |
| 1998 | Ford | Scorpio Cosworth | £250 |
| 1962 | Jaguar | MKII | Sold |
| 2001 | Porsche | 911 Carrera 2 | Sold |
Comments
Author

Keith Moody
Latest