Sir Basil Spence's Lancia to go under the hammer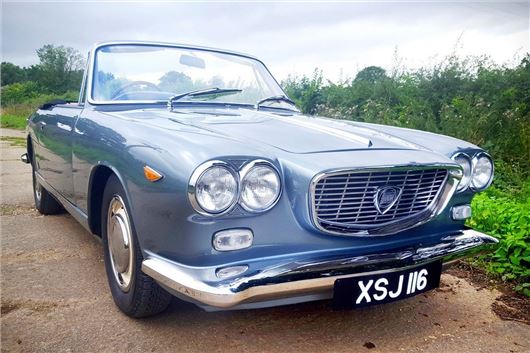 Published 24 August 2017
A 1963 Lancia Flavia Vignale Convertible first owned by architect Sir Basil Spence will be offered for sale at the Salon Prive auction at Blenheim Palace on 2 September.
One of Britain's most distinguished modern architects of the post-War era, Sir Basil Spence is most notably associated with Coventry cathedral. But Spence was also a car enthusiast and purchased the Lancia Flavia Vignale in April 1963.
As one of approximately 40 right-hand drive UK examples, the car was priced at £2350 - a considerable sum at the time. It is believed he bought the car as a gesture while he was working on his design for the British Embassy in Rome.
Finished in Newmarket Grey, the car wore Spence's private numberplate, BS 1066 (not included in the sale). It is believed that difficulties with the Italian planning authorities caused Sir Basil to dispose of the Lancia 'in protest' and replace it with a Jaguar.
Now for sale with with Silverstone Auctions, the car has recently had a bare metal respray. It is expected to sell for between £35,000 and £45,000 when it goes to auction in September.
The Flavia comes with a restored and repainted factory hardtop, biscuit-coloured leather interior with matching Wilton carpets, wood-rimmed steering wheel, and original Motorola push button radio.
The car is accompanied by an extensive history file including the original Lancia Guarantee in Spence's name (with his Canonbury Place, London N1 address) as well as more recent correspondence with the current Spence family. Also in the history file are a number of older MoT Certificates going back to the late 1970s, which appear to support the recorded mileage of 51,604 miles.
To find out more about the 1963 Lancia Flavia Vignale Convertible visit silverstoneauctions.com.
Comments
Author

Keith Moody
Latest