Prototype Ferrari 275 GTB/4 heads to auction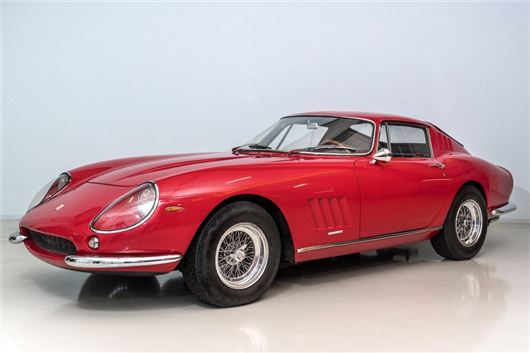 Published 04 May 2017
A Ferrari 275 GTB/4 prototype could fetch up to £2.5m when it goes under the hammer. The car will be auctioned by Coys' at the Royal Horticultural Halls on Wednesday, 18 May. Made in 1966, this car was the first 275 GTB/4 prototype and was used as the show car the Paris motor show the same year.
On its public debut in the French capital, the 275 was greeted with universal praise for both its styling, and its handling. After the show, this model was then taken to the United States by the next owner, Gordon Walker of Northbrook, Illinois, and remained in his ownership until 1983 when it was offered by Ferrari South USA.
In the late eighties it resided in the Swiss collection of Albert Obrist who put together, one of the most comprehensive and renowned collection of Ferraris in the world. Obrist chose this car because he believed that it was the most seminal of 275s given its background.
A few years later, the car changed hands to become part of another world-renowned car collection, this time in England, and remained stored until the early 2000's with other priceless automobiles. In 2004, Coys sold it at its Monaco auction to the current vendor, who used it sparingly for a variety of events.
As Jean Pierre Beltoise, a racing driver and journalist for l'Auto Journal wrote when he tested the car in 1967, 'It is, first and foremost, a serious and comfortable gran turismo, but it retains the lineage of a race car in the response of the engine and the quality of the handling. The 275 GTB/4 is one of the greatest automobiles created in our times.'
The Ferrari 275 GTB/4 four-cam will be joined by a 1961 Ferrari 250 GT Cabriolet with coachwork by Pininfarina (estimated at £1m-1.5m), a 1967 Ferrari 330 GTC (£480,000-525,000) and a 1963 Maserati 3500 GT (£150,000-175,000).
Comments
Author

Keith Moody
Latest