Barn Found Aston Martin DB6 Offered at No Reserve in Historics Ascot Auction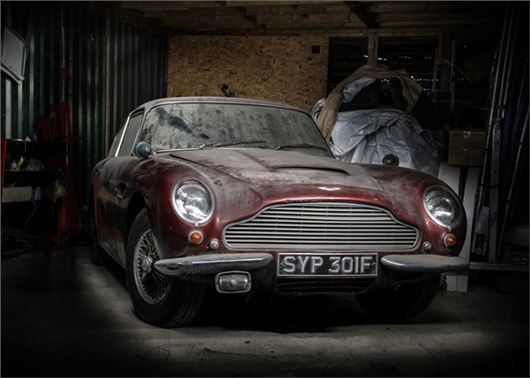 Published 01 April 2017
A 1969 Aston Martin DB6 last used in 1982 has been unearthed in Wokingham and comes up for auction at no reserve in Historics sale at Ascot Racecourse on 20th May.
Bearing in mind that a 'barn found' 1962 Jaguar E-Type 3.8 roadster made £146,000 in Historics previous auction, this could be interesting.
The story goes that the vendor received a telephone call in 2013 from an elderly gentleman in Wokingham purporting to have an 'Austin' in his garage. The house was being sold and the garage demolished, so everything had to go. The tax disc was last dated in 1982, some 35 years previously. The car was then transported to storage and tucked away again until today.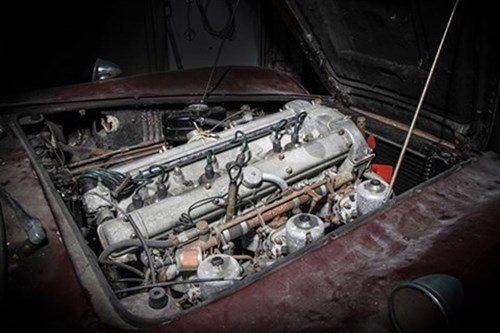 The cataloghe description states, "The Superleggera body and wheel arches appear sound although rust was noticed on the underside of the doors and the paint is flat. Interestingly, some work has taken place in the engine bay. The crank turns with a spanner and the rocker covers have new gaskets. The dipstick shows brand new oil and, with a spark plug out, the top of a shiny piston can be seen. Other gaskets are in evidence and a brand new expansion tank has been fitted. It looks like a rebuild but, obviously, a strip-down would need to take place to confirm."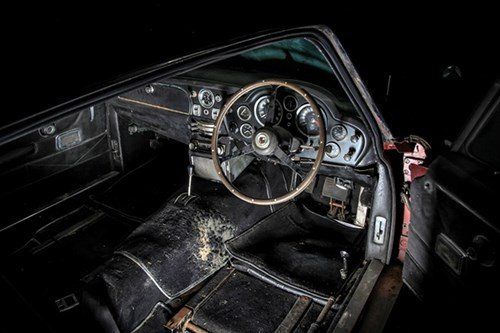 The interior also has some good points, but the photo confirms that the transmission is automatic. The carpets are worn and require replacing throughout. The leather dashboard top and headlining is in good order, but the front seats are missing altogether. All five wire wheels are present and intact although corroded. The floors seem to be good apart from a small area in the passenger footwell. A tool roll and minimal paperwork accompany this exciting discovery as well as an Aston Martin Heritage certificate and build sheets. 
Whether the winning bidder gets it running and leaves it in its delightfully faded-glory (which would be the cool and financially sensible thing to do) or spends hundreds of thousands restoring it will be up to him or her.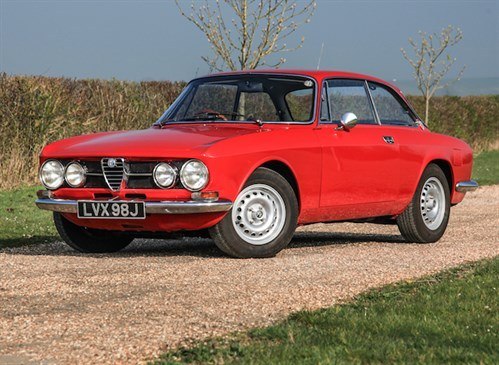 Other lots include a 1969 Alfa Romeo 1750 GTV, estimated at £25,000 and many more.
Full online catalogue as new lots come in and more information about the sale, this time at Ascot Racecourse, not Brooklands, at Historics.co.uk
Comments
Author

Honest John
Latest