Tourette Syndrome Causes Sensation at Historics Classic Auction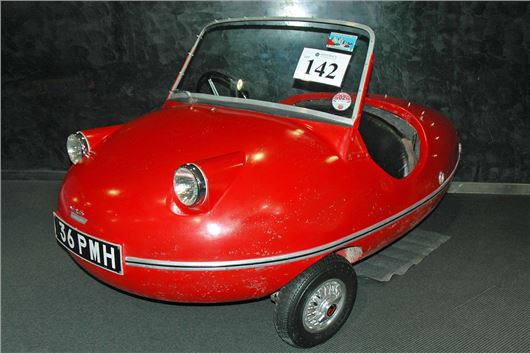 Published 29 November 2016
A 1957 Tourette Supreme microcar sold for a sensational £31,360 at Historics Winter Classic Car Auction on 26th November.
It wasn't the only car to make top money.
After protracted bidding, a 1966 Shelby Mustang 350H (Hertz rent-a racer) sold for £93,420; a 1965 Jaguar E-Type S1 4.2 Roadster made £125,440 and a 1990 Lamborghini Countach Anniversary sold for £238,560.
The auction hall at Mercedes-Benz World was initially packed to capacity on sale day after two preceding very well-attended previews.
141 extremely varied lots included 51 different marques represented across nine decades with a wide spread of values. 34 lots were offered at No Reserve, yet most still made significant sums.
Total sale was £3,546,800 with further provisional sales still in negotiation, representing a sale ratio of 81% that can only rise, underling Historics' consistent high sale rate.
Full list below amended 30-11-2016 to include corrections and post-auction negotiated sales.
(For information on each lot, click on the highlighted) lot number.
Lot 101 1976 Benelli Trials Bike  £1,960 sold
Lot 102 2007 Honda Monkey Moped  £5,600 sold
Lot 103 1995 BMW 840 CI  £5,040 sold
Lot 104 1969 Alfa Romeo Berlina 1750  £7,840 sold
Lot 105 1948 Peugeot 202 Pick-Up  £8,400 sold
Lot 106 1986 Bedford Rascal Pick-Up  £4,760 sold
Lot 107 1968 Daimler V8 250  £14,280
Lot 108 1962 AEC Militant Flatbed Lorry  £6,720 sold
Lot 109 1952 Chevrolet GMC Styleline   £12,880 sold
Lot 110 1973 Alfa Romeo 2000 GTV  £17,920 sold
Lot 111 1966 Triumph Spitfire  £17,920 sold
Lot 112 1979 Mercedes-Benz 350 SL  £15,680 sold
Lot 113 1995 BMW Alpina B3 Coupé  £3,500 not sold
Lot 114 1959 Mercedes-Benz 220 S Ponton  £20,720 sold
Lot 115 1970 Triumph TR6 PI  £12,600 sold
Lot 116 1958 Rover 90  £8,960 sold
Lot 117 1938/1947 Dellow Prototype  £16,800 sold
Lot 118 1980 Mercedes-Benz 280CE  £11,760 sold
Lot 119 1986 Porsche 928 S2  £7,840 sold
Lot 120 1963 Mercedes-Benz 220 SE  £32,200 sold
Lot 121 2013 Mercedes-Benz SLK 500 AMG  £17,360 sold
Lot 122 1969 Jensen Interceptor Mk 1  £40,880 sold
Lot 123 1981 Volkwagen Golf GTI  £7,280 sold
Lot 124 1967 MG Midget  £9,912 sold
Lot 125 1969 Triumph TR6  £9,800 not sold
Lot 126 1966 Ford Anglia  £2,464 sold
Lot 127 1991 Range Rover CSK  £21,000 sold
Lot 128 1978 Rolls-Royce Silver Shadow II  £10,528 sold
Lot 129 1961 Bedford JO Pick-Up  £45,080 
Lot 130 1969 Mercedes-Benz 280 SL  £48,720 sold
Lot 131 2003 Aston Martin DB7 GTA  £56,000 sold
Lot 132 1967 Bentley T1 Two-Door  £33,600 sold
Lot 133 1998 Mercedes-Benz C 43 AMG  £8,960 sold
Lot 134 1999 TVR Cerbrera  £22,960 sold
Lot 135 1984 Bamby (Blue)  £4,592 sold
Lot 136 1962 BMW Isetta RHD  £7,392 sold
Lot 137 1957 BMW Isetta 300 Plus LHD  £19,600 sold
Lot 138 1959 Heinkel Trojan 200  £9,520 sold
Lot 139 1957 Berkeley SE 328 Sport  £4,256 sold
Lot 140 1957 BMW Isetta LHD  £19,040 sold
Lot 141 1958 BMW 600 Limousine  £25,000 not sold
Lot 142 1957 Tourette Supreme  £31,360 sold
Lot 143 1959 Frisky Family Three  £16,800 sold
Lot 144 1974 Zagato Zele 1000  £13,440 sold
Lot 145 2008 Carver One  £29,680 sold
Lot 146 1984 Bamby (Red)   £4,032 sold
Lot 147 1956 Austin A50 Cambridge  £2,800 sold
Lot 148 1994 Ferrari 456GT man LHD  £49,000 sold
Lot 149 1982 Jaguar SS100 - Suffolk Spec  £47,040 sold
Lot 150 1990 Lotus Esprit Turbo SE  £20,440 sold
Lot 151 1990 Aston Martin Virage  £30,800 sold
Lot 152 1973 Aston Martin V8  £52,650 sold
Lot 153 1951 Jaguar XK120 Roadster  £62,496 sold
Lot 154 1965 Jaguar E-Type SI Roadster  £125,440 sold
Lot 155 1968 Jensen Interceptor Mk 1  £30,240 sold
Lot 156 1972 Fiat 500 F  (Green)  £6,944 sold
Lot 157 1973 MGB Roadster  £11,200 not sold
Lot 158 1990 Lamborghini Countach Anniv.  £238,560 sold
Lot 159 1971 Citroen SM  £32,480 sold
Lot 160 1992 Lamborghini Diablo Rec.  £14,560 not sold
Lot 161 2004 Mercedes-Benz SL 55 AMG  £20,720 sold
Lot 162 1976 Daimler Sovereign Series II  £30,800 sold
Lot 163 1973 Aston Martin V8  £43,680 sold
Lot 164 2006 Mercedes CLK DTM AMG  £170,000 not sold
Lot 165 1985 Ford Escort 1.3 GL  £6,048 sold
Lot 166 2001 Porsche 911 996 Turbo  £34,720 sold
Lot 167 1962 Jaguar E-Type Series I  £94,080 sold
Lot 168 1960 Jaguar XK150SE DHC  £79,000 not sold
Lot 169 1968 Lotus Elan Plus 2  ex-G. Hill  £23,520 sold
Lot 170 1995 Toyota Supra TRD  £11,200 sold
Lot 171 1963 Innocenti 1100S Spider  £7,500 not sold
Lot 172 1978 Aston Martin V8 'Volante'  £113,120 sold
Lot 173 1973 Range Rover Series I  £22,960 sold
Lot 174 1991 Honda NSX  £26,320 sold
Lot 175 1969 Rolls-Royce Mulliner DHC  £34,720 sold
Lot 176 1966 Austin Mini Cooper S Mk I  £48,720 sold
Lot 177 1971 Volvo 1800E  £19,600 sold
Lot 178 1972  Chevrolet Fleetside C10   £8,400 sold
Lot 179 1953 AC Buckland Sports Tourer  £44,240 not sold
Lot 180 1964 Mercedes-Benz 230 SL  £51,520 sold
Lot 181 2000 Rover Mini Cooper Sport 500  £23,800 sold
Lot 182 1980 Porsche 930 Turbo Flatnose  not sold
Lot 183 1975 Ferrari 365 GT4 BB  £285,000 not sold
Lot 184 1968 Ford Mustang Shelby GT500  £87,360 sold  
Lot 185 1994 Land Rover Defender 90  £14,000 sold
Lot 186 1963 Studebaker GT Hawk   £20,720 sold
Lot 187 1966 Shelby Mustang 350GT Hertz  £93,240 sold
Lot 188 1971 Aston Martin DBS 6  £101,920 sold
Lot 189 1993 Ferrari Testarossa  £107,520 sold
Lot 190 1987 Bentley Continental Conv.  £62,720 not sold
Lot 191 2002 Ferrari 360 Modena  £56,560 not sold
Lot 192 1975 Rolls-Royce Silver Shadow I  £17,360 sold
Lot 193 2002 Aston Martin Vanquish  £77,280 sold
Lot 194 1968 Rolls-Royce Two-Door FHC   £21,000 not sold
Lot 195 1967 Mercedes-Benz 250 SL  £42,000 sold
Lot 196 1942 Willys MB Jeep  £21,560 sold
Lot 197 1930 AC Magna Boat-Tailed Sports  £19,000 n/s
Lot 198 1971 Mercedes-Benz 280 SE Coupe  £89,600 sold
Lot 199 1972 Ferrari 246 GT Dino  £285,600 not sold
Lot 200 1993 Lancia Delta HF Integrale  £40,320 sold
Lot 201 1935 Alvis Speed 20  £54,000 not sold
Lot 202 2007 Bentley Flying Spur  £30,800 sold
Lot 203 1954 Cooper Mk. VIII  £19,000 not sold
Lot 204 1950 Bristol 400  £40,320 sold
Lot 205 1988 Porsche 911 Carrera Sport  £107,520 sold
Lot 206 1998 Ferrari F355 F1 Berlinetta  £42,000 not sold
Lot 207 1963 Porsche 356 B Coupé  £47,000 not sold
Lot 208 1992 Alfa Romeo Spider LPG  £9,000 not sold
Lot 209 2006 Aston Martin DB9 'Volante'  £39,200 sold
Lot 210 1966 Mercedes-Benz 230 SL  £69,440 sold 
Lot 211 1996 Bentley Continental R  £38,080 sold
Lot 212 1969 Fiat 500 L (Red)  £8,736 sold
Lot 213 1996 Aston Martin DB7 i6 Auto  £24,640 sold
Lot 214 1968 Daimler 250 Saloon  £13,440 sold
Lot 215 1976 Ferrari 308 GT4  £32,000 not sold
Lot 216 1936 Bentley 4¼ litre Saloon  £92,960 sold 
Lot 217 1970 Mercedes-Benz 300 SEL  £24,080 sold 
Lot 218 1968 Aston Martin DB6 Mk I  £190,000 not sold
Lot 219 1940 Alvis 12/70 Special  £70,000 sold
Lot 220 1998 Ferrari 550 Maranello  WITHDRAWN
Lot 221 1981 Ferrari Mondial  £26,320 sold
Lot 222 2015 Bentley Mulsanne Speed  £95,000 + VAT n/s
Lot 223 2001 Aston Martin DB7 V12 'Volante'   £26,320 sold
Lot 224 1998 Land Rover 90 Wolf  not sold
Lot 225 1937 Ford 78-770 Coupé 85HP  £19,040 sold
Lot 226 1983 Ford Capri 2.8 Injection  £10,080 sold
Lot 227 1966 Mercedes-Benz 250 SE Coupé  £22,960 sold
Lot 228 1990 Jaguar V12 Convertible   £15,400 sold
Lot 229 1967 Jaguar Mk. II 3.4  £17,500 not sold
Lot 230 1997 Renault Sport Spider  £20,500 not sold
Lot 231 2001 Subaru Impreza P1  £14,840 sold
Lot 232 2000 Mercedes-Benz E 55 AMG  £9,520 sold
Lot 233 1998 Austin Maestro 1.3 9,600 miles £3,472 sold
Lot 234 1966 Daimler 250 Saloon (V8)  £15,680 sold
Lot 235 1988 Ford Escort XR3 'Rattlesnake'  £14,000 n/s
Lot 236 1969 Austin 1800 Utility  £18,200 sold
Lot 237 2004 Mercedes-Benz CL55 AMG  £6,720 sold
Lot 238 1987 Bentley Eight  £4,816 sold
Lot 239 1967 Ford Anglia 39k miles £5,600 sold
Lot 240 1987 Citroen 2CV6 Dolly  £4,592 sold
Lot 241 1998 Fiat Barchetta 2.0 T/S RHD  £2,128
Lot 242 1970 Austin 3 Litre Saloon  £7,952
Total sold                                             £3,546,816
Comments
Author

Honest John
Latest