1962 E-Type Roadster ex-Nina Aga Khan Up For Auction Today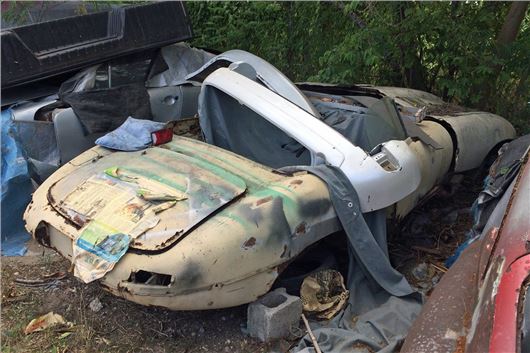 Published 22 November 2016
Jaguar E-Type Roadster, chassis number 850413, built 27th February 1962, and lost for 50 years has been found in Jamaica.
Behind it lies an extraordinary story.
The only RHD E-Type Roadster ever supplied new to the French market, it was first owned by Princess Shirin Khan. Born Nina Sheila Dyer to wealthy parents in February 1930 in Sri Lanka, Nina was blessed with stunning good looks and left for London where she joined the fashion industry. At the age of 20 she moved to Paris where she became the top model for couturier Pierre Balmain.
Mingling with the wealthiest Europeans at the hottest social events, she caught the eye of billionaire Baron Hans Heinrich von Thyssen, the richest man in Europe. Von Thyssen became besotted with Nina and took her as his mistress, lavishing her with gifts that included expensive sports cars, millions of pounds' worth of jewellery, her own Caribbean island (where she scandalised the media by sunbathing nude on the beach) and two black panthers that accompanied her everywhere she went. 
Von Thyssen's divorced his wife to marry Nina in June 1954, but it did not work out with both taking lovers (male and female in Nina's case). They were divorced after two years and Nina walked off with a settlement that included a French chateau and vast amounts of jewellery.
One of Nina's affairs was with Prince Sadruddin Aga Khan, a fabulously wealthy member of the Persian ruling elite and son of Sultan Muhammad Shah Aga Khan III. In August 1957 they got married, Nina converting to Islam and taking the name Princess Shirin Khan.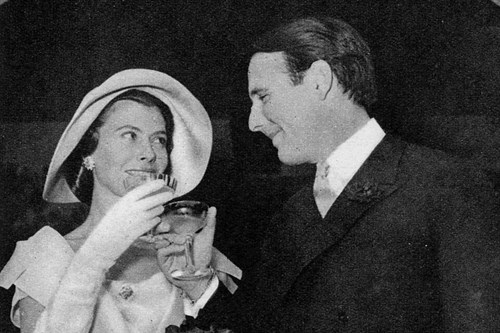 Aga Khan showered Nina with gifts and yet more spectacular jewellery, including the famous 'Panther Set' that was especially made for her by Cartier. He also gave her the cream RHD E-Type Roadster, which she collected from Delecroix of Paris. But, despite all the gifts, the marriage foundered and once again Nina walked off with a vast divorce settlement.
Although Nina was still young, beautiful and wealthy, she was also desperately unhappy. With two failed marriages behind her, no children, a flagging modelling career and barely any real friends, she retreated to her Caribbean island taking her beloved black panthers and her cream E-Type with her. She could not settle nor shake off her depression and she returned to France where on 3rd July 1965, she committed suicide by taking an overdose of sleeping pills.
The cream E-Type Roadster disappeared and it was presumed lost for ever. However, by chance, an Englishman holidaying in Jamaica last year, was told of two old cars in storage on the island. He duly went to see them, finding a red E-Type coupe and the cream roadster. A deal was struck and the roadster was soon on its way back to the UK. It was only after he applied for a Heritage Certificate that he realised the car was no ordinary E-Type and had such a fascinating story to tell.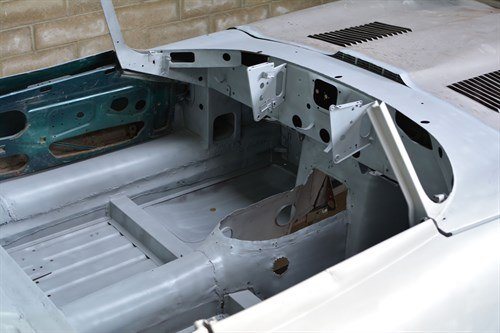 Thanks to years spent in the hot Jamaican sunshine, rot has not set in, but everything removable has been pilfered over the past five decades. Crucially the original chassis number 850413 is still clearly visible on the stucture so with the aid of the Heritage Certificate supplied, obtaining a new V5C registration document should not be a problem.
Due to be offered at auction by Brightwells of Leominster on 23rd November at no reserve, the E-Type is expected to be keenly fought over by collectors as it could be worth in excess of £200,000 once fully restored. The car was displayed at the NEC Classic Car Show from 11th - 13th November on the SNG Barratt stand in Hall 2, who can supply virtually all the parts required to restore the car, including a 3.8 engine and gearbox.
For further information on the car and the sale, visit brightwells.com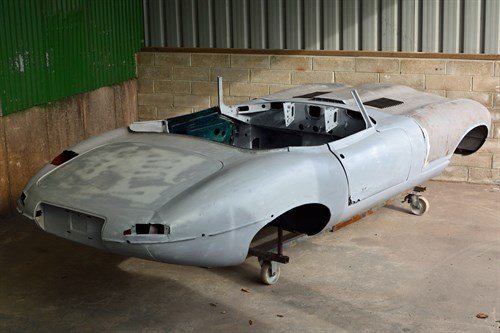 Comments
Author

Honest John
Latest
Compare classic car insurance quotes and buy online. A friendly service offering access to a range of policies and benefits.

Get a quote