Wayne's World AMC Pacers sells for £31k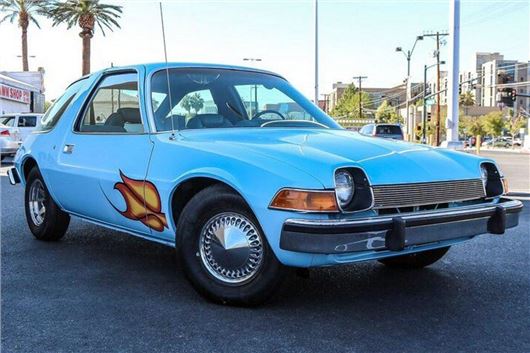 Published 17 October 2016
The AMC Pacer that starred in the cult film Wayne's World sold for $37,400 (£31,000) at auction over the weekend. The car went under the hammer at the Barret Jackson auction in Las Vegas.
Fans of the film will fondly remember the stars Wayne (Mike Myers) and Garth (Dana Carvey) singing along to Queen's Bohemian Rhapsody – so it's no surprise the car fetched more than double the top price for good Pacer.
The 1976 car was modified for the film with a colour change from yellow to blue, tow hooks welded to the front subframe and various steel plates fitted for camera supports.
According to the auction catalogue, the Pacer's heating and air-conditioning had been removed. A hole had also been drilled in the roof for the famous liquorice dispenser, and flame decals were added. Components were also removed from the inner dash for the cup dispenser.
The car had been extensively restored to bring the it back to movie specification. The car was taken back to bare metal before being repaired and painted blue. Bumpers and original wheels were rechromed.
'Seats and headliner were recovered, and all interior panels and dashboard were refinished,' said the catalogue. 'The only part of the restoration not true to the movie are the upgraded speakers and stereo. The stereo system is operational, however, and ready for you to do your own rendition of Bohemian Rhapsody.'
Comments
Author

Keith Moody
Latest